NMSU to host annual jujube tasting workshop at Alcalde Sept. 27New Mexico State University to host annual jujube fruit tasting workshop at the Sustainable Agriculture Science Center at Alcalde.
By Jane Moorman
505-249-0527
jmoorman@nmsu.edu
Sep 13, 2017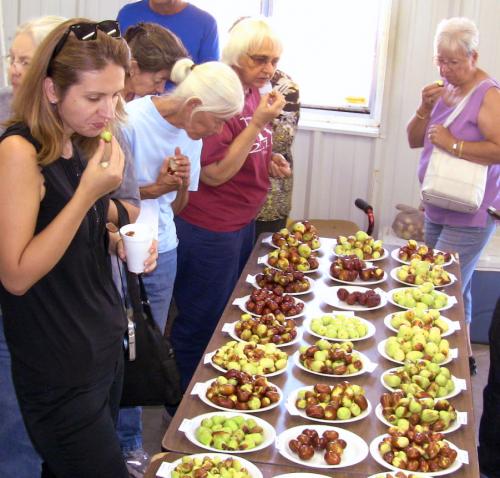 ALCALDE – Fall cool nights and warm days trigger the ripening of fruit, including the Chinese date, commonly called jujube, being researched by New Mexico State University's College of Agricultural, Consumer and Environmental Sciences.
It is also time for the annual fruit-tasting workshop held by Cooperative Extension Service fruit specialist Shengrui Yao. This year 40-plus cultivars will be available for tasting during the event from 2 to 4:30 p.m. Wednesday, Sept. 27, at the Sustainable Agriculture Science Center at Alcalde.
The free workshop is limited to 40 participants. You can register online at rsvp.nmsu.edu/rsvp/jujube2017 or call Augusta/Anna at 505-852-4241.
"We will have a presentation about jujube flowering and fruiting habits, followed by a tasting session and a field tour," Yao said.
Since 2010, Yao has promoted jujube fruit as a solution to the significant financial impact experienced by northern New Mexico fruit growers because of late frosts in mid-May. Jujube trees begin blooming in June.
"With its late bloom and its wide adaptation to soil and weather conditions, jujube is a reliable crop every year," she said. "The highly nutritious fruit would be a great fruit tree crop for commercial growers and home gardeners in New Mexico."
In 2011, Yao imported 30-plus different cultivars from China to see which would produce best in New Mexico. Six years later, she has trial orchards at NMSU research science centers at Alcalde, Los Lunas, Tucumcari and Las Cruces.
"Some of the cultivars are very impressive with around 50 percent of the trees carrying 5-10 pounds or more of fruit in 2017, third year after planting at Alcalde," Yao said.
"Even if you have attended our previous workshops, it will be worth a trip to check the cultivar performances in the field, which would be helpful in your cultivar selections for both home gardeners and commercial growers."