NMSU rodeo team holding college rodeo Sept. 28-29 in Las CrucesNMSU rodeo team prepares for college rodeo and fair held in Las Cruces, New Mexico.
By Savannah Montero
575-646-1614
smontero@nmsu.edu
Sep 27, 2017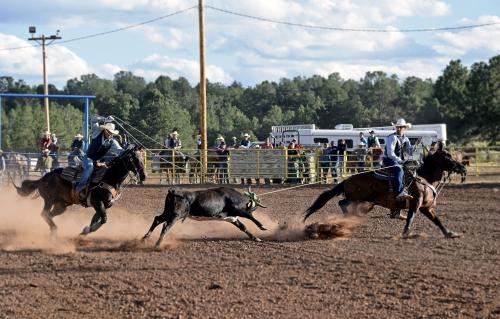 Bright lights, the smell of sweet kettle corn, the sounds of sizzling barbecue, loopty loops and, yes, of course rodeo.
Thursday and Friday, Sept. 28-29, will be the dates for a college rodeo in Las Cruces. The NMSU rodeo team is partnering up for the first time with the Southern New Mexico State Fair to produce a college rodeo, professional rodeo and the state fair.
"We're extremely excited for the partnership," Corbett, NMSU rodeo coach, said. "We know that we can produce a top-notch rodeo, while also allowing our students from all over the country, who study right here in Cruces, display their abilities during the home college rodeo."
This intercollegiate rodeo only has one long round, divided into two sections held at the Las Cruces fairgrounds at 12125 Robert Larson Blvd. The first performance will be Thursday, Sept. 28, at 7 p.m. and the second section will be Friday, Sept. 29, at 9 a.m.
Following the college rodeo is the Professional Rodeo Cowboys Association performances, running at 7 p.m. Friday and Saturday, Sept. 29-30, and Saturday morning at 9 a.m.
Tickets will be available at the fairgrounds gate; $14 for adults and $10 for children per day.
For more information contact Corbett at lcorbett@nmsu.edu.