NMSU hosts farm walk in La Cienega Sept. 27The New Mexico State University College of Agricultural, Consumer and Environmental Sciences is hosting a farm walk in La Cienega, New Mexico, Sept. 27.
By Kristie Garcia
KRGarcia@nmda.nmsu.edu
Sep 05, 2017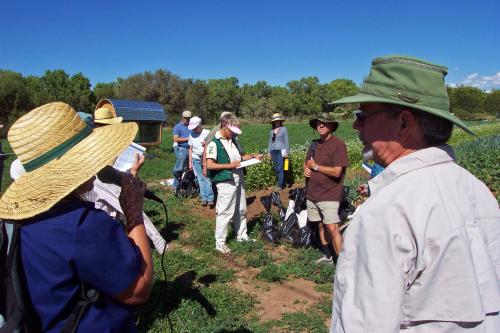 If you'd like to learn about ideal crop rotation and cover crops for New Mexico soil, you won't want to miss the farm walk in La Cienega, New Mexico, later this month.
Organized by the New Mexico State University College of Agricultural, Consumer and Environmental Sciences, the farm walk is made possible by a grant from Western Sustainable Agriculture Research and Education.

The farm walk is from 10 a.m. to 2 p.m. Wednesday, Sept. 27, at the Green Tractor Farm in La Cienega in Santa Fe County. The event is free, however, advance registration is required, and space is limited to 50 people. Please go to http://rsvp.nmsu.edu/rsvp/farmwalk2017 to register.

"The purpose of the farm walk is for people to learn in an interactive manner," said John Idowu, Extension agronomist and associate professor for NMSU Extension Plant Sciences. "The event will focus on finding appropriate rotations and cover crops for soil health in mixed vegetable production."

Tom and Mary Dixon will host the farm walk. The Dixons recently retired and turned their Green Tractor Farm over to Rachel Dixon and Ned Conwell. Green Tractor Farm – which was certified organic in 2000 – grows a wide variety of mixed vegetables for a market debit Community Supported Agriculture program and for the Santa Fe Farmers Market. The farm has two greenhouses, including one that is on rails. Cisterns and drip are used for irrigation.

Building soil health and maintaining sustainable crop production practices have remained challenging for New Mexico growers. Because of the reduced irrigation water availability, extreme weather conditions and increasing input costs, New Mexico farmers seek sustainable solutions that build resiliency into their farming systems. Solutions include practicing proper crop rotation and planting cover crops after the cash crops have been harvested. 

The Dixons will share their experiences in developing rotations and using winter cover crops to build a regenerative soil to nourish their crops.

If you have a disability requiring auxiliary service to participate in this event, please contact Laurie Novak at novak555@nmsu.edu or 575-646-1715 at least seven days prior to the event. Shade will be limited. Attendees should bring water, a hat and sunscreen and should wear closed shoes. Pets are not allowed on the farm.

For any questions about the event, please contact John Idowu at jidowu@nmsu.edu or 575-646-2571.