NMSU Extension Service helps Santa Cruz farmer improve forage quality, yieldNew Mexico State University Cooperative Extension Service helps Santa Cruz farmer improve forage quality and yield.
By Jane Moorman
505-249-0527
jmoorman@nmsu.edu
Aug 15, 2017
SANTA CRUZ - When Mario Madrid decided it was time to renovate his pasture and make beneficial use of the land's water rights, he turned to New Mexico State University's College of Agricultural, Consumer and Environmental Sciences for help.
"My family's land was covered by bi-annual grass and full of weeds It was barely edible for my horses and it was not adding any protein to their diet," Madrid said of the six acres of land that his father had farmed. "Yields continued to decline."
His father had farmed the land as long as Madrid could remember. In the past there had been great stands of forage, but in recent years things had run down as his father grew older.
After many trips to Isleta and Tome to purchase quality hay, the team roper reached a turning point.
"I knew I wasn't making hay anywhere close to that quality so it was a motivation to do something better," he said. "I thought, 'I've got pasture land and water rights, I can learn to raise better quality hay.'"
The NMSU graduate in civil and structural engineering knew the university's Cooperative Extension Service could help him.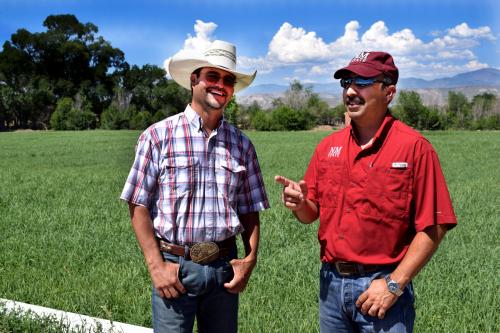 Tom Dominguez, NMSU Santa Fe County Extension agricultural agent, began consulting Madrid.
"That's what the Extension Service does, we provide research-based information free of charge," Dominguez said. "People don't know that we are here to help them one-on-one."
Several Extension specialists also provided specific information about forage crop varieties, weed control and pest management.
Forage specialist Leonard Lauriault, from the NMSU Agricultural Science Center in Tucumcari, helped Madrid select a forage type.
"We had orchard grass in the pastures when I was a kid," Madrid said. "I discovered cool-season grasses have a longer growing season than the warm season grasses in north central New Mexico. I selected orchard grass because of its yield potential and protein content. I also added alfalfa, so I now have a 70-30 mix of the two plants."
Extension weed specialist Leslie Beck showed him how to identify the weeds, and forage specialist Mark Marsalis, from the NMSU Agricultural Science Center in Los Lunas, taught him which herbicides he needed to use to manage the forage pasture.
"Their help really has paid off; this year the fields are 95 percent weed free because I applied the herbicide they recommended in the spring," he said.
He also attended the field day at the NMSU Sustainable Agriculture Science Center in Alcalde and a forage grower workshop in Los Lunas to gain more information.
"I really learned a lot," Madrid said. "One thing I realized was that I had to bring myself up to speed to be able to ask the right questions and to be able to understand what their feedback meant."
Irrigation water management was another area Madrid wanted to improve.
"Mario wants to show his irrigation district that he is putting his water to good use," Dominguez said. "It is a big push among acequia associations and irrigation districts for individuals to put their water to good use so rights are not bought, reallocated or adjudicated away from the land."
Madrid called on his engineering knowledge in grading and water flow as he leveled the land for better irrigation water flow.
"Even though I'm spending the same amount of time irrigating, I'm not opening the gate as far so I'm using less water," Madrid said. "There is more water in the ditch flowing downstream to my neighbors while I'm irrigating."
The result of Madrid's investment of money and time is paying off with beautiful green fields. The first cutting of the 2.8 acres this year generated 106 bales of hay to feed his horses.
"They were really baled tight so it came out to 1.4 tons per acre," he said. "My second cutting yielded 239 bales and averaged 3.0 tons per acre. I'm hoping to go over six tons per acre by the end of the season."
With planting an addition 1.5-acre field later this summer, next year Madrid expects to provide enough hay for his use as well as having hay for sale.
Through determination and the help of NMSU's Cooperative Extension Service, Madrid has reached his goal of producing quality hay for his performance horses, as well as earning money to recover the costs he initially invested. Just as important is his stewardship of the land and beneficial use of his allocated water from his irrigation district.