Scientists to meet in second annual Animas, San Juan watershed conferenceFindings of scientific study of the Gold King Mine spill will be presented at a conference in Farmington June 20-22.
By Jane Moorman
505-249-0527
jmoorman@nmsu.edu
Jun 14, 2017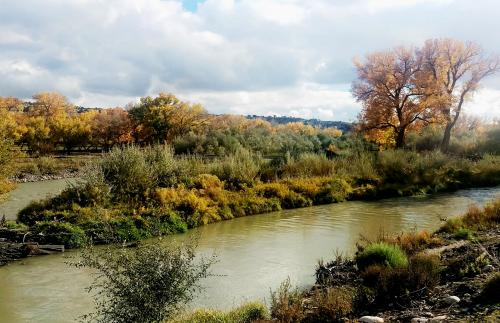 FARMINGTON – When more than three million gallons of mining sludge from the Gold King Mine site at Silverton, Colorado, suddenly flowed downriver into the Animas and San Juan rivers in August 2015, no one knew what to expect as a lasting impact.
For the past two years, scientists from numerous government agencies have studied the watershed of the two rivers.
Their findings will be presented at the second annual conference on "Environmental Conditions of the Animas and San Juan Watershed with Emphasis on Gold King Mine and Other Mine Water Issues" June 20-22 at the Henderson Fine Arts Center, San Juan College in Farmington.
The New Mexico Water Resources Research Institute will host the conference. Sponsors of the conference include the New Mexico Environment Department, NMSU, University of New Mexico, New Mexico Tech University, New Mexico Bureau of Geology and Mineral Resources, San Juan Soil and Water Conservation District, San Juan Watershed Group, San Juan County, City of Farmington and City of Aztec.
"Building on last year's successful conference, this year's meeting will continue to facilitate the exchange of data and research results associated with monitoring efforts related to the 2015 spill," said Sam Fernald, director of the NM WRRI. "Since the spill, quite a bit has happened on the site and this conference will provide an update of the increased understanding of the spill, along with lessons that have been learned."
This year's technical program will include oral and poster presentations in addition to plenary talks from some of the region's leading experts on environmental catastrophes and their impact on communities.
An all-day educational field trip will be on Thursday, June 22, of the Animas and San Juan watersheds, including visiting the Silverton area. Participants must register for the conference and pay an additional fee.
The Wednesday, June 21, afternoon session is free to the public.
"The conference is an opportunity to meet, learn from, and share ideas on a broad effort that includes four states, three Environmental Protection Agency regions, two tribes and numerous local and municipal agencies and public water systems," Fernald said.
Registration fee is $50 for each individual, except students at $25. That fee includes lunch on Tuesday and Wednesday. The field trip fee is $90. Exhibitors are welcome at a fee of $75 for government agencies and $125 for commercial companies.
For more information about the conference presenters and to register, visit animas.nmwrri.nmsu.edu.