NMSU, Texas Tech to host Sustainable Rangelands Symposium June 21-22 in RuidosoNew Mexico State University and Texas Tech to host Sustainable Rangelands Symposium June 21-22 in Ruidoso.
By Jane Moorman
505-249-0527
jmoorman@nmsu.edu
Jun 02, 2017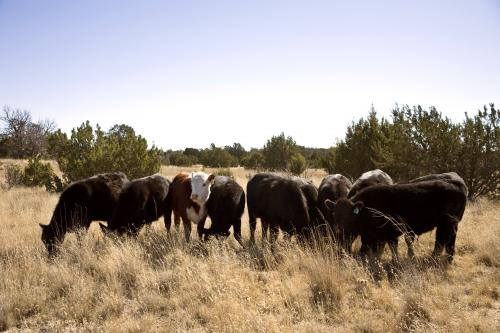 RUIDOSO – The influence of drought cycles on rangeland and cattle management options will be the theme for the second annual Sustainable Rangelands Symposium Wednesday and Thursday, June 21-22, at the Ruidoso Conference Center, 811 Sierra Blanca Drive, Ruidoso.
New Mexico State University's College of Agricultural, Consumer and Environmental Sciences and Texas Tech University's College of Agricultural Sciences and Natural Resources are co-hosting the event that will follow the New Mexico Cattle Growers Association conference.
"Rangeland sustainability is a key concept and one to which all ranchers, landowners, technicians and resource managers should strive to achieve and maintain," said Mike Hubbert, NMSU animal and range sciences professor. "We have developed a roster of speakers that will address the drought cycles and what ranchers may do to lessen the impact on their operation."
From soils, water conservation and forage production, to livestock and wildlife management, the speakers will provide vital information.
"Additional program topics will address calf values, and what feed yards and packers are looking for in the animals they buy," Hubbert said. "Ultimately, the industry must understand the impact of consumers' preference as to what they want and what they actually buy."

Keynote speaker Gary Paul Nabhan is an internationally celebrated nature writer, agrarian activist and ethnobiologist who tangibly works on conserving the links between bio diversity and cultural diversity.

The National Ranching Heritage Center at Texas Tech University will host a Ranch Camp for the attendees' children who have completed grades one through five. 

"While their parents attend the symposium sessions, the children will participate in hands-on activities and lessons created and led by NRHC educators," Hubbert said.

Symposium programs will be from 1 to 5 p.m. Wednesday, June 21, and from 8 a.m. to 5 p.m. Thursday, June 22.

Pre-event registration fee is $75 for an individual, or $100 for a couple. Registration fee at the door will be $100. Contact Jenny Castillo at 575-646-2515 to register.

MCM Elegante Lodge and Suites is the conference hotel. To make reservation call 575-258-5500.