NMSU floral team aims to compete nationallyNew Mexico State University Floral Team fundraises to acquire national competition eligibility.
By Kristie Garcia
KRGarcia@nmda.nmsu.edu
Apr 06, 2017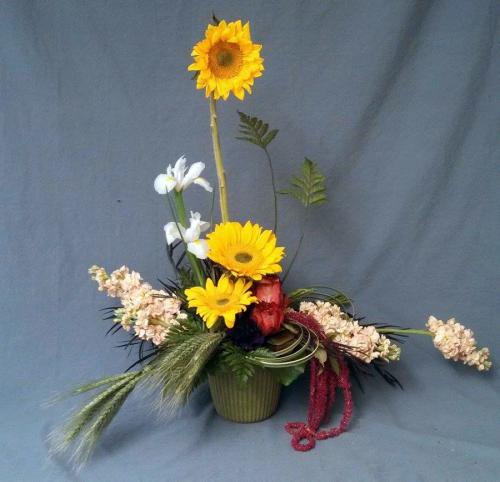 The New Mexico State University floral team hopes to bring home a national championship trophy next summer.
In order to compete, the team must first attend a mandatory meeting at the American Institute of Floral Designers National Symposium in Seattle this summer to establish eligibility for a charter.
"Our program is designed to give students an ownership mindset, and those students have raised $10,000 in the last year to travel to this important event," said Sabine Green, NMSU Floriculture Program Coordinator. "However, we still need to raise $4,000 to register by May 1."
Only collegiate teams with a certified coach may participate in the national competition. Green received full induction into the AIFD as a Certified Floral Designer in 2015.
Not only does the floral team have future potential to compete nationally at the annual symposium, Green said attending the event is a gateway to career opportunities.
"This is a phenomenal experience for students in floriculture," she said. "It opens their eyes to the vast amount of opportunities in the floricultural industry, from event planning to flower development, and from graphic design to teaching. It provides the utmost amount of networking opportunities."
For five days, students may attend a minimum of four classes per day and learn from industry leaders from around the world. Over 1,000 people attend the symposium, and at least 13 universities are represented.
About eight NMSU team members have their sights set on receiving eligibility this summer in order to compete next summer.
"The students established a fundraising timeline and set goals for each event," Green said. "It has been a year-long process. It's completely student driven."
Floral team members are constantly working and designing to raise money. They have weekly sales on campus. They're hired to design floral arrangements and centerpieces for campus events, such as banquets, presentations and homecoming activities. Other NMSU students often hire the floral team for weddings. And beginning April 23, the team will sell items at the Old Mesilla Farmers and Crafts Market on the Mesilla Plaza each Sunday.
The NMSU College of Agricultural, Consumer and Environmental Sciences' Department of Plant and Environmental Sciences plans to help the team leverage its efforts.
"We've created the '$100 Club' donor program with the NMSU Foundation, and our department will match 100 percent of each contribution," Green said.
To donate to the floral team, please contact Heather Richman, College of ACES Development Officer, at 575-646-6495 or proctor2@nmsu.edu.