New Mexico 4-H adds new group of ambassadorsNew Mexico 4-H adds four new ambassadors.
By Peter Foreman
575-646-6233
peterjay@nmsu.edu
Mar 03, 2017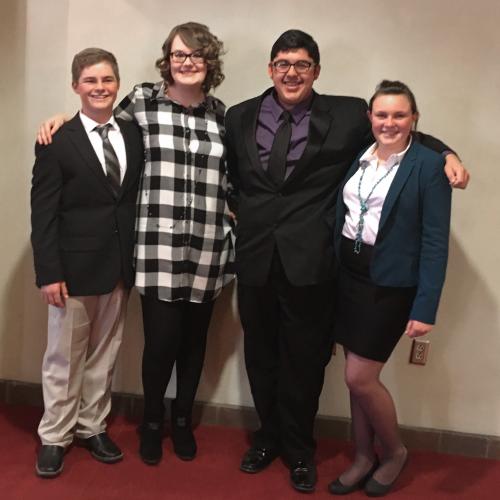 The ending of another Senior Leadership Retreat means the beginning of a new group of senior- aged New Mexico 4-H members in leadership positions.
Each year, 4-H members, ages 14-18, have the opportunity to apply for a state 4-H diplomat or ambassador position. Along with a team activity, the candidates participated in interviews that asked them about their mastery of teamwork and leadership skills through 4-H and how they would possibly apply them in promoting and educating people about 4-H.
This year, before the Senior Leadership Retreat, Jan. 20 in Albuquerque, the judging committee picked four new ambassadors. The new ambassadors are Jack Cameron, Bailey Grady, Marco Gutierres and Anne Hodnett.
When seeking an ambassadorship, each applicant was asked why they pursued the position.
Cameron, of Santa Fe County, said, "I wanted to give back to the organization that has given me so much and I saw it as a great opportunity to do so."
"I was very eager to give back to the program through leadership just as the program has given me skills I use on a daily basis," said Grady, of Roosevelt County.
"I saw it as a great opportunity to teach others about the leadership and the benefits it can have to them and the people they know," said Gutierres, of Sandoval County.
"4-H has done amazing things and has impacted my life in so many different ways and I wanted to help others," said Hodnett, of Doña Ana County.
With new roles come new responsibilities for the ambassadors. "They present leadership workshops to counties and assist the state officers with responsibilities for State 4-H Conference," 4-H youth activities specialist Amy Zemler said. The responsibilities will include putting on workshops at "Journey: Opportunities for Leaders of Tomorrow" in Arizona, assist with events at the New Mexico State Fair that include the livestock shows, McDonalds Farm, which involves educating young children on agriculture, and at the NMDA building. At the end of their term, they will plan and host Senior Leadership Retreat, a leadership and personal growth event for 4-H senior-age youth.
The 4-H youth development program is part of NMSU's Cooperative Extension Service, and the state 4-H office is on the NMSU campus.
For more information about 4-H, call 575-646-3026 or visit http://aces.nmsu.edu/4h.