NMSU to host tri-county beef herd health symposium in MoriartyTri-county beef herd health symposium will be hosted by New Mexico State University on March 30 in Moriarty.
By Jane Moorman
505-249-0527
jmoorman@nmsu.edu
Mar 13, 2017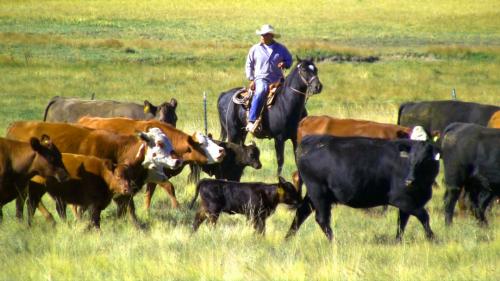 MORIARTY – Cattle producers face many issues revolving around their herds' health.
New Mexico State University's College of Agricultural, Consumer and Environmental Sciences is providing a Tri-County Beef Herd Health Symposium Thursday, March 30, to provide information to help the producers in Santa Fe, Torrance and Bernalillo counties address some of the issues.
The event will be from 9 a.m. to 3 p.m. at the Edgewood Soil & Water Conservation District office, 2506 Route 66 in Moriarty. Registration fee of $20 will include program materials and lunch. Continuing education units will be available for both New Mexico Department of Agriculture pesticide license holders, as well as Beef Quality Assurance participants.
"General calf health is the main issue," said Thomas Dominguez, NMSU Cooperative Extension Service agricultural agent in Santa Fe County.
"Some of these conditions are hindering cows from raising and weaning a good marketable calf, as well as passing on those immune system strengths that allow a calf to gain to its full potential in the feed yard," he said. "This program is a result of addressing those issues identified by local advisory council members."
Addressing the issues will be Dr. Tim Hanosh, division director of NMDA's veterinary diagnostic service; Craig Gifford, NMSU Extension beef specialist; and Brandon Smythe, program manager with NMSU's veterinary entomology research laboratory.
Topics of discussion will include an update on the state of New Mexico's herd health, managing the cow's immune system for reproductive success, horn fly impacts and control options, and building immunity in calves.
RSVP for the event by March 25 by calling 575-471-4711 or email Dominguez at tdomingu@nmsu.edu.
Editors Notes
Event location corrected