NMSU Extension agents receive state's new food safety certification trainingNew Mexico State University's Cooperative Extension Service agents receive training in state's new food safety certification requirements.
By Jane Moorman
505-249-0527
jmoorman@nmsu.edu
Feb 07, 2017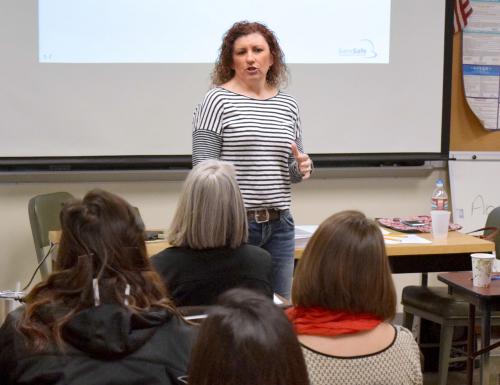 The clock is ticking and time is running out for people who prepare food for the public to receive the newly required food safety certification.
The New Mexico Environmental Improvement Board approved new food regulations in December 2015 that were effective March 1, 2016. A one-year exemption that was placed on the requirement for the food safety certification will sunset on March 1.
The regulation requires two levels of food safety training for people working in the food industry – food protection manager certification and food handler certification cards for all employees. This certification is required prior to a food establishment receiving its food permit from the New Mexico Environment Department.
"It is officially required that anyone serving food to the public has to at least have food handler certification and there must always be one person on duty that has the food protection manager certification," said Julie Correa, New Mexico State University assistant professor with the School of Hotel, Restaurant and Tourism Management in the College of Agricultural, Consumer and Environmental Sciences. Correa provides certification training for the New Mexico Restaurant Association.
This new regulation has caused an increased need for certifying people working anywhere food is prepared and sold to the public, including school cafeterias, event concession stands, senior citizens centers and fundraising dinners.
The state environment department's food program has approved several online training programs, however many people prefer in-person training.
NMSU's Cooperative Extension Service is stepping up to help provide that training throughout the state. Recently, 26 Extension agents received certified food protection manager training through the National Restaurant Association's ServSafe program so they can provide the training to others.
"Part of our job as family consumer science agents, formerly known as home economists, we give food safety advice every day," said Cindy Davies, county director of NMSU's CES Bernalillo County office. "So this training is a good refresher for the agents, as well as certifying them to provide the training, especially in the rural areas."
"In my area there is no one certified to teach these classes, so I'm going to provide that service," said Brenda Bishop, county program director for NMSU's Cooperative Extension Service in Quay County. "In our community a lot of volunteer organization do dinners as fundraisers. They need to be in compliance with the New Mexico Environmental Department's regulations."
For groups using volunteers to prepare and serve the food, the state regulation only requires one person to have the food protection management certification.
Helen Idzorek, FCS agent with NMSU's CES office in Los Alamos County, took the training because the senior center requested that she train the food program volunteers.
"We want to make sure everyone is up to date and safe before we go out and serve food to folks in the community at events or through the home delivered meals program," Idzorek said.
Another area affected by the regulation is cooking classes where food is prepared and consumed by the students.
"I have to train and ensure our nutrition educators are following all of the proper food handler practices to ensure food safety during their classes," said Sarah Haynes, coordinator of the NMSU's Bernalillo County Ideas for Cooking and Nutrition program. "While we are teaching our participants about nutrition and preparing nutritious meals, we also teach them food safety practices in their homes."