NMSU provides 4-H Military Partnership program statewideNew Mexico State University's youth development program is participating in national 4-H Military Partnership program statewide.
By Jane Moorman
505-249-0527
jmoorman@nmsu.edu
Jan 12, 2017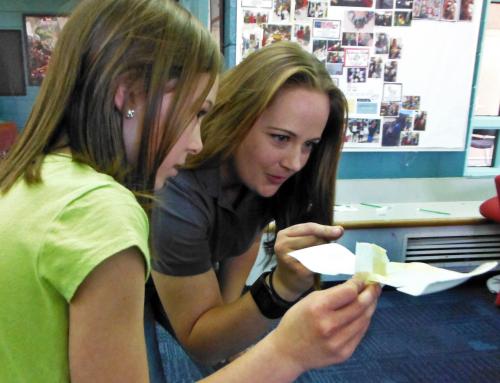 Paper airplanes and propeller sticks fly around the room as kids chase their flying objects.
This is a special day at the Kirtland Air Force Base youth recreation center. It's National Youth Science Day and the youth are learning about airplane flight and drones.
New Mexico State University's 4-H agents Brittney Sonntag and Nicole Jaynes have brought the national 4-H activity to the youth center. Helping with the activities are volunteers from Sandia Labs. Lockheed Martin, parent company of Sandia Labs, is a national partner for the science day.
This is just one activity the 4-H agents provide for the children of military personnel through the 4-H Military Partnership program.
Through deployment and other events, military children face multiple stressors, which emphasizes the importance of youth development skills that help them process adversity by positively adapting to situations.
"The 4-H club provides youth an opportunity to take on leadership roles, creating the opportunity to communicate and think of other's interests, and the needs of other age groups of youth," Sonntag said. "It is critical that military children have the opportunity to develop resiliency skills within their family and community."
Over the last four years, New Mexico 4-H has been working to strengthen its partnership with the military installations in the state. Currently, there are programs at Holloman and Kirtland air force bases, New Mexico Army National Guard in Albuquerque and White Sands Army Base.
"Statewide annually we have approximately 215 military youth enrolled in 4-H and another 650 military youth reached through 4-H programing at the various installations," Sonntag said.
"There are four main components in the program, health and nutrition; STEM – science, technology, engineering and math; community service; and integration into traditional 4-H programs off-base," Jaynes said.
Fourteen youth participating in a five-day 4-H cooking camp at Holloman AFB learned about nutritional food choices, menu planning, food preparation, food and kitchen safety and etiquette.
At Kirtland AFB, a year-long project combined learning where food comes from with nutritional cooking.
"We decided to reconstruct a garden area on the base and asked Home Depot for help," said Sonntag. "Home Depot donated $500 worth of plants and provided a gardening expert to help design and plan for a successful garden."

With help from military personnel volunteers, the garden was created. An automated drip irrigation system was designed and installed by the youth.

"Throughout the summer, the Kirtland AFB youth center had harvest days," Sonntag said. "The youth harvested the produce then prepared it for consumption and served it with lunch that day."

Twenty-four youths, grades kindergarten through fifth grade, attended a week-long STEM camp at White Sands Army Base where they experienced science through hands-on activities. They had fun learning about chemical reactions and what happens when different ingredients are mixed together making Play-Doh, bubbles, Silly Putty and goo. 

Eleven youths, ages 9 to 14, participated in a three-day rocketry camp at Kirtland AFB youth center.

"They build three rockets – a construction paper model, a water rocket and a model rocket," Sonntag said. "At the conclusion, the model rockets were launched."

Community service projects at the various installations included participating in the Read Across America Celebration and making no-sew blankets for Animal Humane of New Mexico.

"An important aspect of the 4-H Military Partnership is to have the military youth participate in traditional 4-H programs so they become involved in the community where their installation is located," said Sonntag. "One way to do this is to have the military youth enter their projects in their respective county fairs. The New Mexico military youth entered over 400 projects."

Future plans are being made for a leadership building activity of rafting on the Rio Grande south of Taos. The activity is being offered to all military pre-teens and teens. They will be joining the Bernalillo County 4-H Council members in this activity.

"This will be a big event, getting everybody together for a leadership day," Sonntag said. "It will be interesting seeing what other activities evolve from this gathering of the youth."

The 4-H Military Partnership between Bernalillo County Urban 4-H and Kirtland AFB has already established a working relationship that the youth enjoy.

"The kids really look forward to 4-H day," said Lucy Burbach, recreational specialist at Kirtland AFB youth recreation center. "I really appreciate Brittany and Nicole. They have vast knowledge for various activities such as cooking, jewelry making and sewing. They have helped me a lot with our photography club."