NMSU to host fruit growers workshop at historic Los Luceros RanchThe annual New Mexico Fruit Growers Workshop will be March 2 in Alcalde.
By Jane Moorman
505-249-0527
jmoorman@nmsu.edu
Jan 30, 2017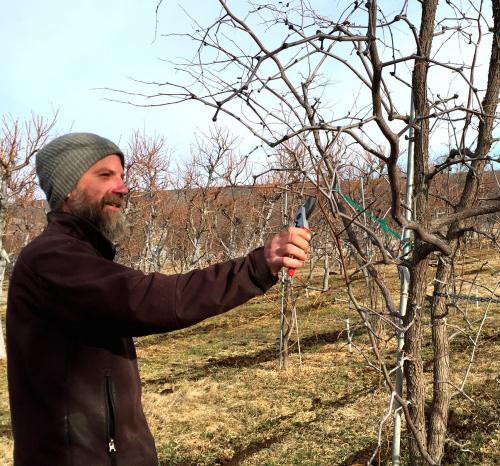 ALCALDE – Los Luceros Ranch, one of New Mexico's most scenic and historically significant properties, will be the site of the New Mexico Fruit Growers Workshop on Thursday, March 2.
New Mexico State University's Cooperative Extension Service will host the workshop at the 148-acre ranch formerly owned by the family of Frank and Ann Cabot. The New Mexico Department of Cultural Affairs purchased the property in 2008.
"Los Luceros Ranch provides us with a wonderful opportunity because of the established fruit orchard on the property," said Shengrui Yao, NMSU Extension fruit specialist. "After a morning of presentations, we will perform fruit tree pruning demonstrations on the apple, peach, cherry, plum and apricot trees at the ranch and NMSU's Sustainable Agriculture Science Center at Alcalde."
The workshop will begin with registration at 8:30 a.m. Presentations will begin at 9 a.m. Topics will include:
– U.S. Department of Agriculture's agricultural survey and crop selection apps, presented by John Garlisch, NMSU Extension horticulturalist in Bernalillo County.
– How to manage insect pests using integrated pest management, presented by Ashley Bennett, NMSU Extension small urban farm IPM specialist.
– Organic fruit production, presented by Yao.
– Soil biology and soil building, presented by Rudy Garcia, USDA's Natural Resource Conservation Service.
– Food safety requirements as set by the Food and Drug Administration's Food Safety Modernization Act, presented by Donald Martinez and Tom Dominguez, NMSU Extension agricultural agents in Rio Arriba and Santa Fe counties, respectively.
Following lunch and the food safety presentation, participants will have two options for afternoon activities. They may learn fruit tree pruning basics or tour the Los Luceros Ranch.
The day will conclude with fruit tree pruning demonstrations at the ranch and the Alcalde science center.
Pre-registration fee for the meal and materials is $12 per person before Feb. 15 and $15 after Feb. 15. The deadline for registration is Feb. 22, due to ensuring enough food is prepared for the lunch. Pre-registration is preferable, only cash or check will be accepted the day of the event.
To register call the Santa Fe County Extension office, 505-471-4711, or the Alcalde science center, 505-852-4241. For further information contact Yao at 505-852-4241, Dominguez at 471-4711 or Martinez at 505-685-4523.