Cotton Growers to gather Jan. 11 for annual conferenceThe 2017 New Mexico Cotton Growers Conference will be Jan. 11 in Ruidoso, New Mexico.
By Darrell J. Pehr
575-646-3223
pehr@nmsu.edu
Nov 30, 2016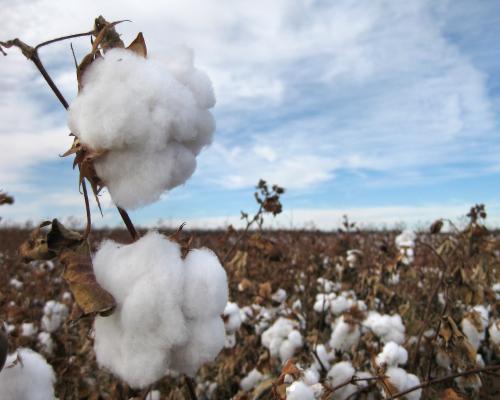 The New Mexico Cotton Growers Association Conference provides an opportunity for cotton growers in New Mexico to update their knowledge on important production practices and to also learn about new technologies in cotton production coming out from the industry. It also provides an opportunity for cotton growers to network among themselves and discuss matters that are of mutual benefit.
The 2017 New Mexico Cotton Growers Conference will be from 8 a.m. to 4 p.m. Wednesday, Jan. 11, at the Ruidoso Convention Center, 111 Sierra Blanca Drive, Ruidoso, New Mexico.
This year's conference will focus on cotton nutrition and fertilization, disease management, cotton varieties, cotton economics, the current regulatory environment and cotton classification and grading.
"We have a lineup of great speakers, from within and outside of New Mexico, who will deliver cutting-edge information related to cotton production practices," said John Idowu, New Mexico State University Cooperative Extension Service agronomist. "We will also have representatives from seed, chemical and irrigation industries, to provide information on products that can lead to cost savings for farmers."
All New Mexico cotton growers, extension educators, crop consultants and stakeholders are welcome to attend. Registration fee is $25 per person, which includes lunch. Registration form can be downloaded at http://aces.nmsu.edu/ces/ifcpm/documents/conference-registration-form-2017.pdf.
Mail, email or fax completed registration forms to Patrick Sullivan, 1946 S. Valley Drive, Las Cruces, NM 88005, nmbollweevil@zianet.com, phone 575-541-0584 or fax 575-541-0788.
Those who wish to come the day before the conference can stay at The Lodge at Sierra Blanca, 107 Sierra Blanca Drive, Ruidoso, 575-258-5500. The hotel offers a discounted conference rate in conjunction with the New Mexico Hay Association Conference. Please reference the NM Hay Association Conference when making reservations.
If you have any questions, please contact Idowu at jidowu@nmsu.edu, 575-646-2571, or Sullivan at nmbollweevil@zianet.com, 575-541-0584.