NMSU students to diagnose plant disorders at outreach event Oct. 24New Mexico State University students will diagnose plant disorders at an outreach event.
By Darrell J. Pehr
575-646-3223
pehr@nmsu.edu
Oct 11, 2016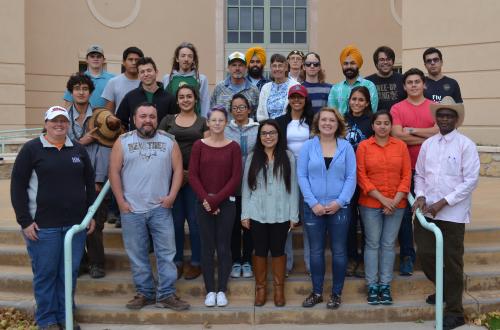 If you are having trouble with your yard, garden or houseplants, a group of New Mexico State University students may have the answers you need to help solve your plant problems.
Students in the 2016 Diagnosing Plant Disorders class will share their expertise on plants with the public at an upcoming community outreach event Monday, Oct. 24.
The event will be at NMSU's Fabian Garcia Science Center in Las Cruces from 1:30 to 5:20 p.m.
"The event is about challenging students and giving them the opportunity to serve the community using the skills they have acquired in the classroom," said course instructor Soum Sanogo, professor of fungal plant pathology in NMSU's College of Agricultural, Consumer and Environmental Sciences.
Participants are encouraged to bring specimens of any legal plants, and questions regarding plant health, growing plants and maintaining plants to the event.
The students will be assisted by Sanogo; Carol Sutherland, NMSU Extension entomologist and state entomologist; Jason French, plant diagnostic clinician at NMSU's Plant Diagnostic Clinic; Geno Picchioni, professor of horticulture and plant mineral nutrition; and Leslie Beck, Extension weed specialist.
The event is free to the public.