NMSU receives USDA grant to expand agricultural education program to 18 pueblosNew Mexico State University receives U.S. Department of Agriculture grant to expand its beginning farmers and ranchers program to 18 pueblos.
By Jane Moorman
505-249-0527
jmoorman@nmsu.edu
Oct 11, 2016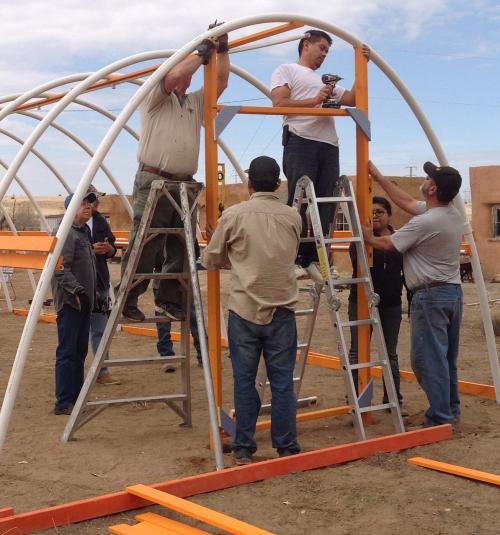 ALCALDE – New Mexico State University's beginning farmers and ranchers program that helps Native American farmers and ranchers succeed in agriculture has been extended three more years and expanded to include both the eight northern and 10 southern pueblos.
NMSU's College of Agricultural, Consumer and Environmental Sciences was among 37 projects receiving the 2016 funding from the U.S. Department of Agriculture's Beginning Farmer and Rancher Development Program. NMSU received $598,030 of the $17.8 million awarded.
Since 2009, USDA has invested more than $126 million into projects targeting farmers and ranchers with less than 10 years of farming experience.
For the past three years, NMSU's Cooperative Extension Service's Rural Agricultural Improvement and Public Affairs Project has conducted the Southern Pueblos Beginning Farmers and Ranchers Program helping 59 Native American beginning farmers and ranchers to improve their agricultural operation.
"Other tribal members and several tribal leaders of the northern pueblos wanted us to expand the program," said Edmund Gomez, Extension Economics assistant department head and project director. "This new grant allows us to expand our program to the eight northern pueblos."
The RAIPAP staff is currently selecting the participants from the pueblos of Taos, Picuris, Ohkay Owingeh, Santa Clara, San Ildefonso, Pojoaque, Nambe, Tesuque, Cochiti, San Felipe, Santo Domingo, Sandia, Santa Ana, Zia, Jemez, Isleta, Laguna and Acoma. They are anticipating having 100 participants who will receive training to help them reach their goals for their agricultural operations.
"During the past three years we have demonstrated that we developed a practical approach to meeting the individual production, management, marketing and financing needs of the participants," Gomez said.
For the next three years, the participants will be assisted in developing sustainable management practices and marketing strategies on their farms and ranches.
Through workshops, individual instruction and on-farm demonstrations, the participants learn about good agricultural practices for raising crops and livestock. Ranchers earn their Beef Quality Assurance certification as they receive animal care training.
A key component in the program is the pueblo farmers and ranchers serving as mentors giving one-on-one assistance to the participants.
"We strive to honor the Native American cultural traditions," Gomez said. "One of these traditions is seeking elders' wisdom. The mentors give the participants the avenue to practice this tradition."
NMSU's RAIPAP is collaborating with the Institute of American Indian Arts in Santa Fe to provide the training to the participants. IAIA is a 1994 Land Grant Institution and has an agricultural extension program.
"We are working with various pueblo livestock and farm associations and the pueblo tribal councils to help provide access to our workshops for the tribal members," Gomez said.
Another key component of the project is the partnership with three USDA agencies – Natural Resources Conservation Service, Farm Service Agency and National Agricultural Statistics Service – to inform the participants of the USDA programs that can benefit their ability to own and operate their farms and ranches.
"Besides teaching the research-based agricultural information to the participants, we help them develop bookkeeping and records-keeping practices that are necessary if they want to access federal or financial institute funding," Gomez said.
To learn more about NMSU's beginning farmer and rancher program visit: https://www.youtube.com/watch?v=VwSlkmogKIs and https://www.youtube.com/watch?v=OYqVrHiPDZA.