NMSU hosts regional turfgrass conferenceNew Mexico State University hosts the annual Southwest Turfgrass Association Recreational Landscape Conference and Expo Oct. 25-27.
By Kristie Garcia
KRGarcia@nmda.nmsu.edu
Oct 11, 2016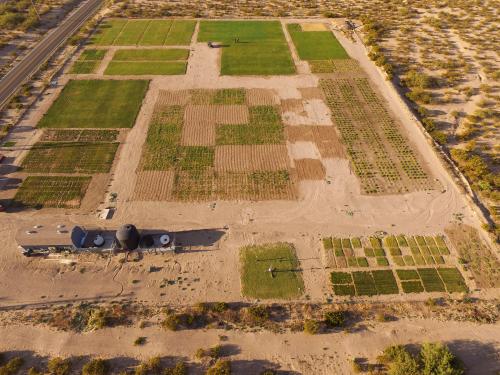 Homeowners, master gardeners, landscape managers and turfgrass professionals are invited to attend the Southwest Turfgrass Association Recreational Landscape Conference and Expo hosted by New Mexico State University Oct. 25-27.
The event begins with a golf tournament Oct. 25 at the NMSU Golf Course. The conference is at the Las Cruces Convention Center and includes a field trip to the NMSU Turfgrass Salinity Research Center on Triviz Drive southeast of campus.

Bernd Leinauer, NMSU Extension Turfgrass Specialist, said the conference will focus on water and the economic impact of turfgrass, among other topics.

"Water is the key issue, in regards to turfgrass and its impact on the tourism industry and on quality of life in general," Leinauer said. "The turfgrass industry plays an important role in the state, as it generates a lot of income through tourism, which contributes to the economy. It also makes our environment more habitable. And how can we do this with the least amount of resources, particularly with the least amount of water, possible? That has always been the aim of our research."

While the conference rotates locations each year, Leinauer said having the event in Las Cruces is important because people are able to visit the NMSU turfgrass research facilities and see the work that's being accomplished first-hand.

The conference will include the following presentations:
Oct. 26:
- Introduction (Steve Hendley, SWTA President)
- Welcome (NMSU Associate Dean and Cooperative Extension Service Director Jon Boren and Associate Dean and Agricultural Experiment Station Director Dave Thompson)
- Extension and research update (Leinauer)
- Keynote address: The State of the Golf Courses (Brian Whitlark, United States Golf Association Agronomist)
- NMSU Turfgrass Salinity Research Center field trip

Oct. 27:
- Irrigation needs of Southwest trees; distinguishing biotic and abiotic problems in trees and shrubs; managing annual and perennial plants (University of Arizona School of Plant Sciences Extension Specialist and Professor Ursula Schuch)
- Weed control in newly established or over-seeded areas; weed control in home lawns (University of Tennessee Turfgrass Weed Science Research and Extension Program Head Jim Brosnan)
- Beyond green speed: How rolling affects putting green physiology; where do turfgrasses fit in a world with less water? (University of Arkansas Horticulture Department Professor Mike Richardson)
- Maximizing turf health in challenging soil conditions (Whitlark)
- Weed update (NMSU Extension Plant Scientist Specialist Leslie Beck)
- Insect update (NMSU Extension Entomologist Carol Sutherland)

A trade show – featuring the latest technology in turfgrass management and maintenance – will also be part of the conference.

On Oct. 26, SWTA scholarships in the amount of $1,000 will be awarded to two NMSU Plant and Environmental Sciences students: Laura Johnson and David Rodriguez Herrera. The Arden Baltensperger Lifetime Achievement Award will also be presented.

Continuing education units will be granted for New Mexico and Texas pesticide professionals needing to maintain their license.

For a list of fees or to register, visit www.southwestturfgrass.com. Contact SWTA Secretary Mike Jones at 575-317-6104 or golfturf@hotmail.com for more information.