Drought workshop to be held at NMSUA drought outlook and impacts workshop will be held Oct. 25 at New Mexico State University.
By Kristie Garcia
KRGarcia@nmda.nmsu.edu
Oct 11, 2016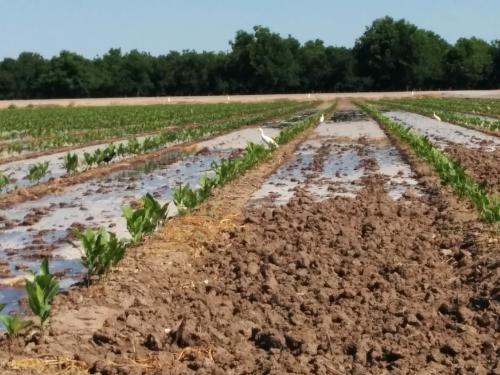 If you're a farmer or rancher, you may want to attend the one-day drought outlook and impacts workshop Oct. 25 at New Mexico State University.
The workshop is from 9 a.m. to 4 p.m. in Wooton Hall at 2995 Knox Street on the Las Cruces campus.
Attendees will learn about the drought outlook for the upcoming winter season.
Topics for the workshop include:
- Short-range weather forecasts
- Medium-range weather forecasts
- Historical climate trends
- Local monitoring activities
- Drought tools
- Early warning resources
- U.S. Department of Agriculture programs
Experts from the National Drought Mitigation Center, National Oceanic and Atmospheric Administration, NMSU, University of Arizona and the USDA Southwest Climate Hub will give presentations. Presentations will highlight the potential impact of droughts on agriculture in the Rio Grande Valley and surrounding rangelands in New Mexico and West Texas.
Information will also be provided about local and regional resources that are available to help manage and monitor drought impacts.
"No matter how small or large someone's operation is – this workshop is for people who are interested in planning for drought," said Caiti Steele, USDA Southwest Climate Hub Deputy Director. "We hope to bring useful information about drought to those who need it. We also want to hear from crop and livestock producers about what they need for drought forecasting, monitoring and impacts reporting, so that we can better serve their needs."
Other workshop partners include the National Integrated Drought Information System, National Weather Service and Climate Assessment for the Southwest.
Registration is free. Breakfast, lunch and snacks will be provided. To register, go to http://swclimatehub.info.
For more information contact Caiti Steele at 575-646-4144 or caiti@nmsu.edu.