NMSU program offers new ideas, best management practices for farmers, ranchersNMSU offers AG Days Degree Program to help agricultural producers be successful.
By Darrell J. Pehr
575-646-3223
pehr@nmsu.edu
Sep 02, 2016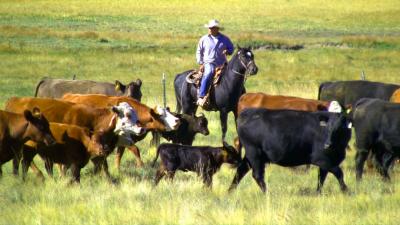 To help operate their farms and ranches profitably, agricultural producers need to know the best practices and the latest ideas from experts. New Mexico State University's AG Days Degree Program brings the best and most current thinking to the producers.
Set for Sept. 15 and 16 in Chama, New Mexico, the next AG Days Degree Program will provide an intensive learning opportunity on topics ranging from stocker cattle management to selection of the best varieties of fruit trees for a high altitude orchard.
"These short courses are intended to educate and provide producers with new ideas to help you grow your business through best management practices," said Marcy Ward, NMSU Extension Livestock Specialist.
Other topics include options in weaning calves, range monitoring, plant identification, soil health, high tunnel greenhouse management, diversifying your operation through niche marketing and becoming certified in the National Beef Quality Assurance Program.
The event will be hosted by the Rio Arriba, Santa Fe and Sandoval County Cooperative Extension Service offices, the Jicarilla Tribal Extension Service and the Department of Extension Animal Sciences and Natural Resources in the College of Agricultural, Consumer and Environmental Sciences.
The program will take place at El Meson Lodge in Chama.
Registration for the two-day program is $65 until Sept. 2 and $75 thereafter, or $40 for one day of the program. Extra meals are $25 per person. Register online at http://nmbeef.nmsu.edu or call 505-685-4523 for more information.