Field Day at NMSU's Artesia Science Center provides updates on insects, cotton, cover cropsNMSU plans Field Day Sept. 8 at Artesia Agricultural Science Center.
By Darrell J. Pehr
575-646-3223
pehr@nmsu.edu
Sep 06, 2016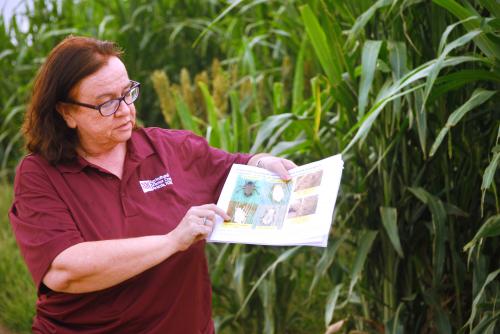 The latest research activity related to glandless cotton, cover crops and jujube fruit trees, as well as an insect safari for children and other activities, will be the focus of the Field Day Thursday, Sept. 8, at New Mexico State University's Agricultural Science Center.
The Field Day will start with registration at 4 p.m. Supper, provided by the Yucca Cowbelles, will be at 5. The science center is south of Artesia, at 67 E. Four Dinkus Road.
After a welcome and introductions at 5:30, barn talks will be presented by Chance Mitchell, District 5 FFA president, and NMSU College of Agricultural, Consumer and Environmental Sciences Dean Rolando Flores. Other topics will include weed and plant identification and "Know Your Crops."
The field visits will begin with the insect safari for children, followed by a presentation on jujube fruit trees by Shengrui Yao, associate professor in Extension Plant Sciences at NMSU's Agricultural Science Center at Alcalde.
Jane Pierce, NMSU Extension entomologist at Artesia, will give an insect update. Robert Flynn, interim superintendent at the Artesia Center and NMSU Extension agronomist, will discuss glandless cotton research.
John Idowu, NMSU Extension specialist/agronomist, will make a presentation on cover crops.
NMSU's Tom Dean, co-director of the Southwest Border Food Protection & Emergency Preparedness Center, also will speak during the event.
Visitors also will learn about the latest on algae, whether food or fuel, which will be presented by Doug Lynn, executive director of CEHMM in Carlsbad. A talk on hi-tech aerial field scouting also will be given.
For more information on the field day, contact the Artesia Center office at 575-748-1228.