Renowned author, livestock facility designer Temple Grandin to speak at NMSUTemple Grandin to speak at New Mexico State University
By Kristie Garcia
KRGarcia@nmda.nmsu.edu
Aug 19, 2016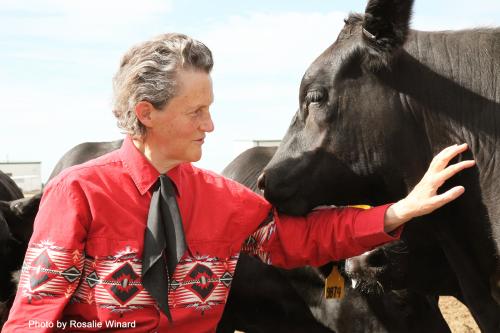 Growing up as an autistic child is not easy. But Temple Grandin worked her way through adversity and has succeeded in many capacities. In fact, she was named to Time magazine's list of "The 100 Most Influential People in the World" in 2010.
Grandin is a world leader in livestock handling facility design. Almost half of the cattle processing facilities in North America include a special feature she designed.
She has developed animal welfare guidelines in the meat industry. And her research regarding grazing-animal behavior has helped producers reduce stress during handling.
She's written several books about both autism and animals. Her book "Animals in Translation" was a New York Times best seller.
Grandin will bring her expertise and inspiration to New Mexico State University Aug. 24-26.
NMSU Animal and Range Sciences Department Head Glenn Duff heard Grandin speak while at Montana State University.
"She's so passionate about what she does, and she really connects with the audience," Duff said. "Agriculture is what we are in New Mexico, and this is an opportunity to look at some of the things she's done and how it relates to much of what we do."
Grandin's visit to NMSU is sponsored by the College of Agricultural, Consumer and Environmental Sciences and will include:
Wednesday, Aug. 24:
4:30 to 6 p.m. – College of ACES faculty, staff and student reception and barbecue at the Livestock Judging Pavilion
6 to 7 p.m. – Book signing for College of ACES faculty, staff and students at the Livestock Judging Pavilion
Thursday, Aug. 25:
8:55 to 10:10 a.m. – Animal Science 100 class at Atkinson Recital Hall (open to campus community)
11:45 a.m. to 12 p.m. – ACES 111 class at Gerald Thomas Hall Auditorium (open to students in ACES 111 only)
1 to 3:30 p.m. – University Common Read Open Forum at Atkinson Recital Hall (open to campus and to the public)
4:30 to 5:30 p.m. – CAST 302 class (Professional & Systematic Response to Child Maltreatment) in Gerald Thomas Hall Room 337 (open to students in CAST 302 class only)
6 to 7:30 p.m. – Public Open Forum at Atkinson Recital Hall (open to campus and the public)
Friday, Aug. 26:
8 to 10 a.m. – Hearts for Autism Organization (Location TBD)
10:30 to 11:20 a.m. – Talk on importance of human-companion animal bond to people with autism: Animal Science class 312V at Atkinson Recital Hall (open to campus and the public)
12:30 to 1:20 p.m. – Animal Science 100 class at Gerald Thomas Hall Auditorium (open to students in ANSC 100 only)
Her book "Thinking in Pictures" was selected for the first-ever common read program for incoming freshmen this semester. Duff recommended the book to other faculty and staff on the common read committee.
"The book is really insightful, and I thought it would be great for freshmen to come in and be able to actually meet Temple Grandin," he said. "Ideally, I'd like for us to bring in the authors of common read books, so students can meet them and make the connection with the book."
Another way Grandin may have an impact on the university is through her companion animal experience. NMSU has a companion animal program led by associate professor Gaylene Fasenko.
"One of Temple's books – 'Animals make us Human' – is really related to what Gaylene Fasenko is doing with human-animal interaction here," Duff said.
NMSU students now have the option of selecting human-animal interaction as a minor.
Grandin has received numerous honors and awards, including Beef Top 40 industry leaders, Cowgirl Hall of Fame and Industry Advancement Award from the American Meat Institute.
The HBO television network premiered a movie about Grandin in 2010. Starring Claire Danes, the biopic "Temple Grandin" won seven Emmy Awards, a Golden Globe and a Peabody Award.
Grandin is a past member of the Autism Society of America Board of Directors. She earned her bachelor's degree from Franklin Pierce College, master's degree from Arizona State University and doctorate from the University of Illinois. She's a professor of animal sciences at Colorado State University.
Grandin is no stranger to NMSU. As part of an Institutional Animal Care and Use Committee training, she visited the campus in the late 1990s as a guest speaker.
In the early 2000s, she helped design a new livestock facility at the U.S. Department of Agriculture's Jornada Experimental Range, north of Las Cruces. As part of her initial tour of the range, she was on campus to present a lecture on low-stress animal handling and design of livestock facilities.