NMSU alumna recognized with first Family and Consumer Sciences teacher awardCheryl Hinrichs has been recognized as NMSU's 2016 Outstanding Family and Consumer Sciences Teacher.
By Adriana M. Chavez
575-646-1957
adchavez@nmsu.edu
Aug 18, 2016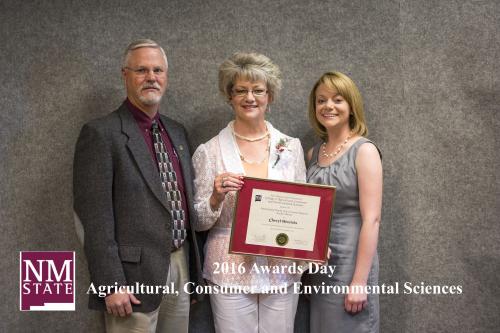 When Cheryl Hinrichs was in the eighth grade, she took a home economics class, which is now known as family and consumer sciences. The class teaches students basic life lessons such as cooking, nutrition, personal finance and consumer economics. She immediately thought she found her calling.
Recently, Hinrichs was recognized as the 2016 Outstanding Family and Consumer Sciences Teacher, an award presented by New Mexico State University's College of Agricultural, Consumer and Environmental Sciences. Hinrichs, a librarian and culinary arts and family and consumer sciences teacher at Melrose High School in Melrose, N.M., has also received a number of national accolades that have proven her love of teaching and mentoring.
Hinrichs graduated from NMSU in 1984. She met her husband, Bruce Hinrichs, while attending the university. Bruce Hinrichs is the associate director of the New Mexico Cooperative Extension Service, and their daughter, Kayla Hinrichs, works for Lea County Cooperative Extension Service. The couple's other daughter, Chelsea Hinrichs, is studying early childhood education at Clovis Community College and Eastern New Mexico University.
In addition to the award from the College of ACES, Cheryl Hinrichs was recognized with the Family, Career and Community Leaders of America Spirit of Advising Award. She was also given the FCCLA Advisor Mentor Award for her willingness to mentor new FCCLA advisers and help them with their student chapters. She is also a past recipient of the FCCLA Master Advisor Award.
Esther Devall, head of the NMSU Department of Family and Consumer Sciences, said the Outstanding Family and Consumer Sciences Teacher award was designed to demonstrate appreciation for local FCCLA chapter advisers. The award is given to a teacher who has received the FCCLA Spirit of Advising Award.
Devall said Cheryl Hinrichs was recognized "for her faithful dedication to her students, often quietly working behind the scenes to ensure their success. Her patience, good humor, flexibility and skill form the foundation of the Family Career and Community Leaders of America chapter."
Cheryl Hinrichs said she was extremely honored by the recognition.
"The announcement came out of the blue because I had never heard of the college, where I earned my degree, honoring anyone in our field," Cheryl Hinrichs said. "I have many talented and creative colleagues who are New Mexico's finest family and consumer sciences teachers. They are all deserving of recognition. I am humbled to have been chosen the first to be recognized by NMSU."
Cheryl Hinrichs said she has always appreciated the "arts" of the home, and comes from a long line of women who have inspired her and her work.
"Being able to teach students the skills that equip them to become good family members, as well as productive members of society, is a responsibility that I don't take lightly," Cheryl Hinrichs said. "I love what I do. I have been teaching for 24 years and I still love it."