NMSU ranch camp helps youth appreciate the 'why' behind ranchingNew Mexico Youth Ranch Management Camp, sponsored by New Mexico State University, introduces high school-age youth to the many aspects of running a ranch.
By Jane Moorman
505-249-0527
jmoorman@nmsu.edu
Jul 01, 2016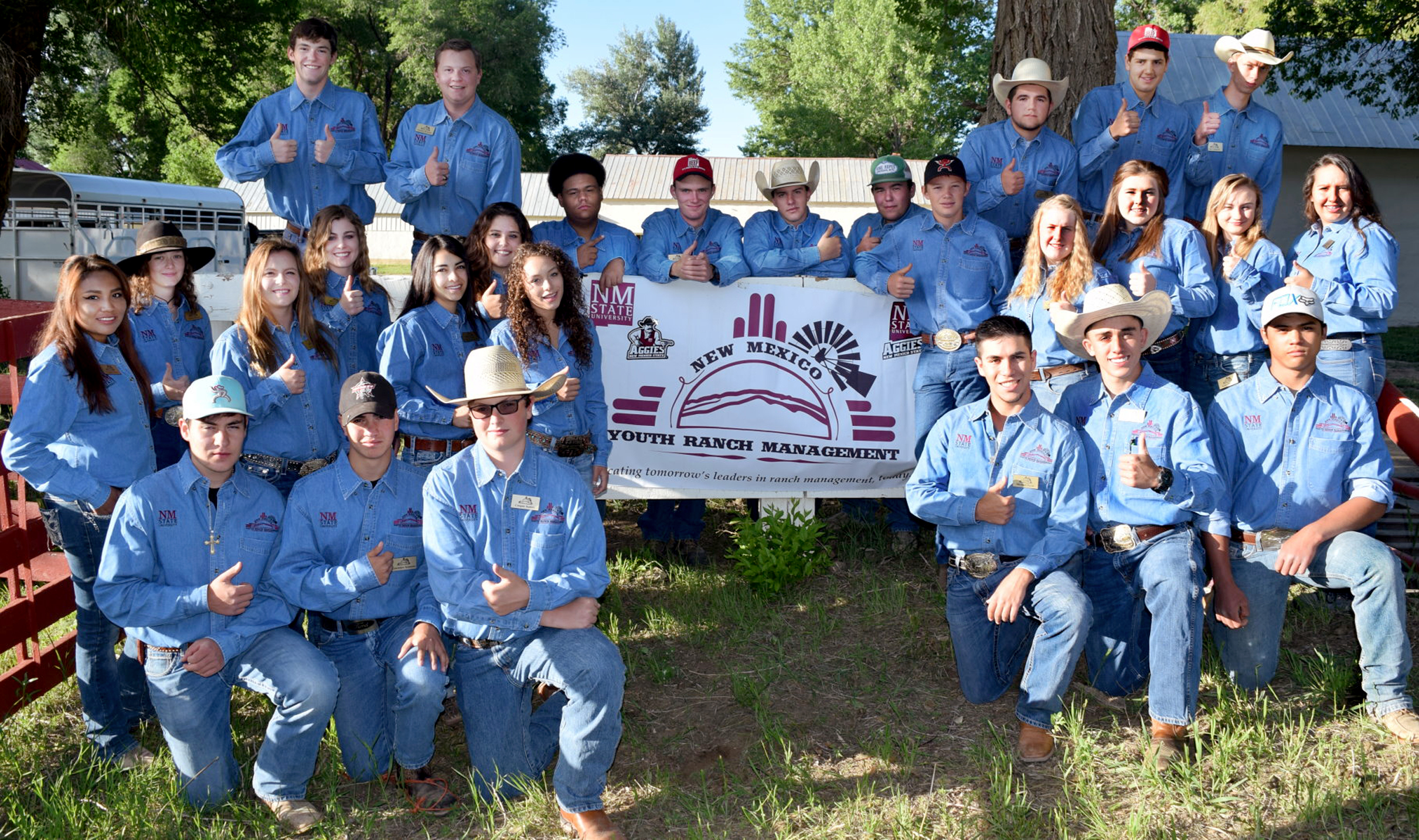 CIMARRON – Going to camp was a life-changing experience this summer for 27 New Mexico youth. They didn't participate in recreational activities and crafts, but received college-level instruction in managing a ranch.
During New Mexico Youth Ranch Management Camp, the high school-age students were introduced to the many aspects of running a ranch, from financial statements and marketing strategies to producing quality beef and managing natural resources and wildlife.
"We are proud to offer this one-of-a-kind program for the future cattle producers of our state," said Jon Boren, NMSU College of Agricultural, Consumer and Environmental Sciences associate dean and director of the Cooperative Extension Service. "The collaboration between our Extension specialists, county Extension agents and members of the ranching industry has provided an opportunity for the youth to learn about the many aspects of ranching."
College-level hands-on curriculum provided the campers with information to develop a ranch management plan for a scenario similar to the host ranch.
For the first time in five years, the camp was held on the CS Cattle Company's 130,000-acre ranch at the foot of the Sangre de Cristo mountain range near Cimarron. Members of the Les and Linda Davis family shared information regarding running the ranch, with its award-winning horse breeding program.
"This unique camp is the best of any program I know of in the United States," said Dennis Braden, general manager of Swenson Land & Cattle Company in Stamford, Texas. "Texas Christian University's ranch management program is exactly the same format, except they have nine months to gain the information and put the plan together. These youth receive the bulk of the information in four days and build a plan."
Through the camp activities, the youth gain an understanding of the "why" behind ranching.
"What we are finding from the more than 100 youth who have participated in past ranch camps is that they have gained a greater appreciation of the science and opportunities in agriculture," Boren said. "It is also a win-win for our aging agricultural industry with more young people having interest in going into this type of work."
Attending the 2016 camp were Lawrence Armenta, of Santa Fe; Cooper Autrey, of Willard; Austin Beard, of Carlsbad; Hettar Best, of Laguna; Wyatt Bishop, of Tucumcari; Kyler Bowerman, of Hope; Maeve Brown, of Floyd; Contessa Cain, of Mountainair; Jacquelynn Chavez, of Albuquerque; Miranda Cisneros, of Las Cruces; Ian Czmyrid, of Santa Fe; Spring Flowers, of Mosquero; Ben Goebel, of Maxwell; Robert Guerrero, of Anthony; Tristine Henio, of Crownpoint; Harrison James, of Taos; Sam Jameson, of Weed; Clara Maxam, of Corrales; Richard Powdrell, of Bernalillo; Michael Purdy, of San Juan; Hayden Randall, of Taos; Miguel Romero, of Arroyo Hondo; Benjamin Sanchez, of Cuba; Koler Seaton, of Grenville; Kalei Towner, of Datil; Brooke Wade, of Rio Rancho; and Raquel Weatherley, of Las Cruces.
On the final day of camp, five teams present their ranch management plans before three judges representing the ranching profession.
The 2016 winning team members were Randall, Autrey, Maxam, Weatherly and Flowers. The runner-up team consisted of Purdy, Sanchez, Wade, Chavez, Bowerman and Guerrero.
A "Top Hand" was selected each day by the instructors for showing exceptional interest in the topics. Receiving Top Hand award buckles were Autrey on All Things Beef Day, James on Marketing Day, Maxam on Natural Resources & Wildlife Day, and Beard on Range Day.
Top Hand runners-up received engraved knives. They were Brown, Purdy, Randall and Bishop.
"If these young people are a demonstration of what is in store for our industry, the future looks bright," said Dina Chacon-Reitzel, executive director of the New Mexico Beef Council, one of the camp sponsors.