NMSU nutrition educators promote healthy eating at growers' marketsNew Mexico State University's Cooperative Extension Service Ideas for Cooking and Nutrition educators demonstrate tasty recipes at growers' markets.
By Jane Moorman
505-249-0527
jmoorman@nmsu.edu
Jul 26, 2016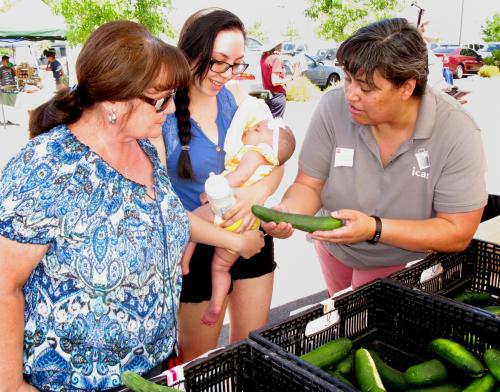 ALBUQUERQUE – Growers' markets are a great source of locally grown fresh fruits and vegetables. They are also great places to learn about ways to prepare meals with the produce purchased at the markets.
Visitors at Albuquerque markets may find New Mexico State University's Cooperative Extension Service Ideas for Cooking and Nutrition educators demonstrating tasty recipes using the produce found at the markets.
"We plan to provide cooking demonstrations at five growers' markets in Bernalillo County this summer," said Sarah Haynes, NMSU's Bernalillo County ICAN coordinator. "The markets give us an opportunity to reach the general public with nutritional information, as well as introduce our program class participants to this source of fresh fruits and vegetables."
NMSU has ICAN programs in 19 counties across the state. The federally funded program's mission is to reduce nutritional health disparities in New Mexico and make a measurable positive impact on the well-being of the community through evidence-based, hands-on nutrition experiences for adults and youth.
New Mexico's ICAN program reaches more than 25,000 people annually. It has a positive impact on its clients. Last year 58 percent of adult participants reported eating more fruits and vegetables, 93 percent improved their nutrition practices and 96 percent improved their food resource management after their ICAN classes.
"Our class participants, who are on Supplemental Nutrition Assistance Program or EBT, may not know about growers' markets in their community, or that the markets are a cheaper alternative to getting more fruits and vegetables in their diet," Haynes said.
Through U.S. Department of Agriculture funding, SNAP participants can double their purchasing power through the "Snap to Health: Double Up Food Bucks New Mexico" program.
"For every dollar they spend from their EBT card, SNAP participants can receive the matching dollar amount from the Double Bucks program for purchasing fruits and vegetables," Haynes said. "This is a win-win situation for the program participants and the growers, because it allows the participants to buy more fruits and vegetables from the local growers."