NMSU agricultural outreach program receives regional honorNew Mexico State University's Rural Agricultural Improvement and Public Affairs Program receives excellence award from Extension Service directors association.
By Jane Moorman
505-249-0527
jmoorman@nmsu.edu
Jul 19, 2016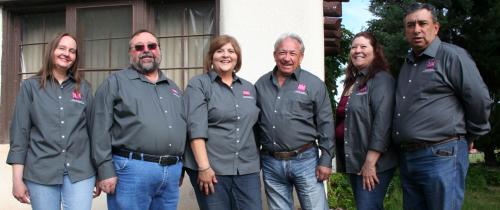 A New Mexico State University agricultural program that provides research-based information to the underserved residents of northern New Mexico has received honors from a regional association.
The Rural Agricultural Improvement and Public Affairs Project is the recipient of the Western Extension Director's Association Awards of Excellence. The award was presented during the organization's Western Region Joint Summer Meeting on July 13 in Bozeman, Montana.
"It is certainly an honor for our Rural Agricultural Improvement and Public Affairs Project to be named as a recipient of the Western Extension Directors' Association Awards of Excellence for 2016," said Jon Boren, NMSU associate dean and Cooperative Extension Service director. "The purpose of this award is to recognize Extension outreach education programming that has achieved outstanding accomplishments, results and impacts in addressing contemporary issues in one or more of the 13 Western states and territories."
"It is an honor that WEDA has recognized the important work that the RAIPAP has done and is doing for Hispanic and Native American farmers and ranchers in New Mexico," said Jay Lillywhite, NMSU's College of Agricultural, Consumer and Environmental Sciences agricultural economics and business and Extension economics department head, of the program within the Extension Economics department.
"RAIPAP and participating New Mexico Cooperative Extension Service faculty and staff are developing and implementing culturally accepted training programs that are improving farmer and rancher operations and changing in very positive ways the lives of farm and ranch families," said Lillywhite, who accepted the award in Montana for the RAIPAP team.
RAIPAP has worked with the Native American and Hispanic farmers and ranchers in northern New Mexico since 1991.
"Northern New Mexico is one of the most economically deprived, yet culturally and historically rich regions of the country," said Edmund Gomez, RAIPAP director. "The indigenous farmers and ranchers, who have the oldest history of agricultural production in the continental United States, are threatened due to loss of land, custom, culture, tradition and language."
RAIPAP has assisted 5,000 families with one-on-one, traditional and culturally accepted Extension education programs in areas of sustainable agriculture, value-added agriculture, small business development, and leadership and organizational development.
Initially established with a Kellogg Foundation grant and continually supported by an additional $10 million in U.S. Department of Agriculture outreach grants, RAIPAP has provided programs with the assistance from county Extension agent members of the Small Farm and Ranch Task Force and Extension specialists.
"Every three years we have a strategic planning meeting with our stakeholders and task force members," Gomez said. "This is where we get directions for our programming."
Most recently, the team has worked with the 10 southern pueblos during the three-year Beginning Farmer and Rancher Program where 58 individuals with less than 10 years of farming or ranching experience participated in workshops on horticulture, animal husbandry and agricultural economics. Participants also received one-on-one assistance to ensure their farm operations would improve.
Through the years, RAIPAP has established the Northern New Mexico Organic Wheat Program in the Taos area; developed the Pueblo Wool Marketing Program; assisted in developing several pueblo and Navajo growers' market programs; and assisted in the development of the Mora specialty livestock program. It also assisted in organizing and expanding the Northern New Mexico Stockman's Association and the Sangre de Cristo Growers Association.
"Each of these projects helped the producers improve their income," Gomez said. "The wool marketing program doubled the amount of money per pound that the sheep growers received."
The organic wheat program brought an estimated $700,000 into the county through the added-value products by milling the wheat at a mill built in Questa.
"Another area we have strived to improve is the farmers' and ranchers' awareness of USDA programs they can benefit from," Gomez said. "We have held more than 40 USDA and other agency resource fairs in Native American and Hispanic communities. This has bridged a gap in communication between the agencies and the citizens."
RAIPAP developed a minority farmer/rancher directory for northern New Mexico with more than 14,000 Hispanic and Native American producers listed.
Members of the RAIPAP team are Del Jimenez, agriculture specialist; Joseph Garcia, southern pueblo agent; Tory Hoagland, northern pueblo agent; Judy Finley, small business agriculture agent; and Augusta Archuleta, administrative assistant.
During its 15 years of existence other team members have include Jaime Castillo, Ted Herrera, Nancy Flores, Ron Walser, Manny Encinias, Sam Fernald, Ursula Rosauer, Pat Melendrez and original project director Andy Nunez.
Also helping through position with the Northern New Mexico Outreach Project were Christine Turner, Hayley Melloy Encinias, Tim Tapia, Melissa Long, Jessica Lucero, Lucia Sanchez, Hershal Muniz and Daniel Melendrez.