Lehnhoff joins NMSU as weed ecologistErik Lehnhoff joins NMSU Departmet of Entomology, Plant Pathology and Weed Science as an assistant professor of weed ecology
By Kristie Garcia
KRGarcia@nmda.nmsu.edu
Jun 16, 2016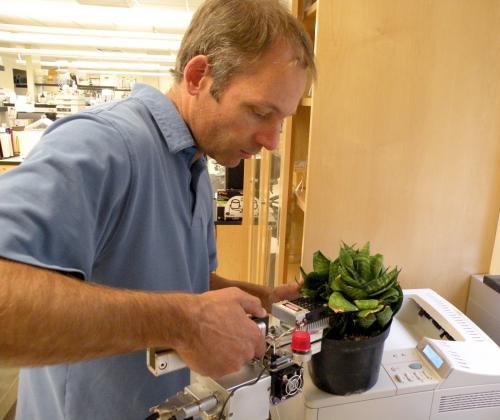 Erik Lehnhoff was once an environmental engineer, but working with plants led him to his current career as a weed ecologist at New Mexico State University.
After earning a bachelor's degree in civil engineering from Clemson University and a master's degree in civil and environmental engineering from Tennessee Technological University, Lehnhoff spent time as an environmental consultant. His interest in plants and weeds grew, and he eventually earned a doctorate in ecology and environmental science from Montana State University.
"As an environmental consultant, most of the work had to do with solid and hazardous waste remediation, and it involved cleaning up sites where there had been chemical spills of some sort," Lehnhoff said. "We had to revegetate sites after removing the waste or treating the waste, and there were always weed problems when we tried to revegetate the sites. That's what prompted me to go back to school and learn more about plant ecology in general, but focusing on weeds and weed management."
Lehnhoff just completed his second semester as an assistant professor of weed ecology in the NMSU Department of Entomology, Plant Pathology and Weed Science.
In addition to teaching several lectures in EPPWS 100, a freshmen introduction class that provides an overview of the entire department, Lehnhoff assisted with EPPWS 447, which is the senior and graduate student seminar class that focuses on organization and techniques for theoral presentation of research information.
And Lehnhoff is no stranger to research. His research at NMSU involves both crops and rangeland invasive weeds.
"My general focus is trying to understand the drivers of plant invasions for one, and then their impacts on the native ecosystem and impacts on our uses of the ecosystem," he said.
One of his current projects involves salt cedar, which affects water usage. Lehnhoff and other researchers are working on integrated pest management of salt cedar at the Caballo Reservoir.
"From the cropping side of things, I'm interested in very applied research on what herbicide programs we can use to help chile growers, for instance," he said. "I'd like to determine what quick and easy studies we can do to help growers improve their product and their yields."
What Lehnhoff has enjoyed most at NMSU thus far is the willingness of everyone to collaborate across departments and that there are not any barriers to working with other people. Among others, he is working with extension entomologist Carol Sutherland on the salt cedar project, assistant professor of weed physiology Brian Schutte on the herbicide and chile studies and assistant professor of soil microbiology Nicole Pietrasiak regarding biotic and abiotic drivers of Lehmann lovegrass invasions at Jornada Experimental Range.