4-H livestock school scheduled for two locations in JuneNew Mexico State University Cooperative Extension Service to host two regional 4-H junior livestock schools in June.
By Jane Moorman
505-249-0527
jmoorman@nmsu.edu
May 18, 2016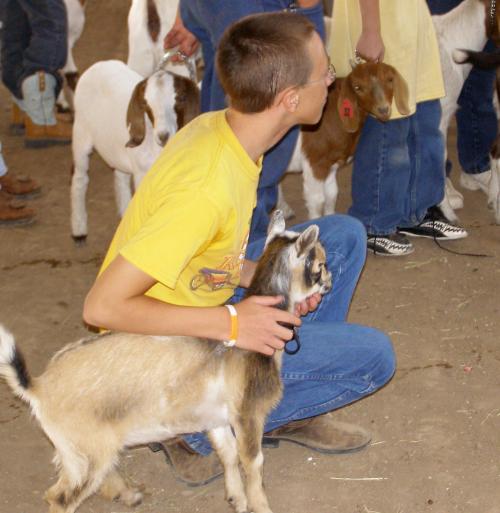 The enthusiastic response to the 4-H Junior Livestock School offered regionally last year has prompted New Mexico State University's Cooperative Extension Service to offer two schools this summer.
"To be more cost-effective, Extension agents on the Small Farm and Ranch Task Force held the first regional junior livestock school last year in Santa Fe," said Craig Painter, state 4-H agriculture and natural resources agent. "It was such a success, we've expanded to a second region this year."
The two-day schools will be held in Abiquiu for the northern region on Friday and Saturday, June 17 and 18, and Truth or Consequences for the southern region on Friday and Saturday, June 24 and 25. Registration deadline is June 1 for both locations.
"I chose to host the school to give our 4-H members in Sierra County and the southern region the opportunity to participate a school closer to home," said Joshua Boyd, Sierra County Extension agent. "Hopefully, having it here will help families with the travel time and costs."
The northern region school is moving to Abiquiu.
"We are happy to host the livestock school in our facilities here in Abiquiu, said Marcella Talamante, Rio Arriba County Extension 4-H agent. "We have a lot of 4-H members doing livestock projects. This will give them an opportunity to learn how to raise their animals and show them during judging competition."
Four livestock categories will be taught at each school. Youth will only be able to participate in one category with up to two animals. Each species track will have a maximum of 30 youth.
Abiquiu will offer the categories of swine, lamb, meat goat and dairy goat, while Sierra County will have steers, swine, lamb and meat goat.
The youth will learn about showmanship, feed and nutrition, fitting techniques, show preparation and much more.
Registration fee is $50 for each participant. For more information, contact Boyd at 575-894-2375 for the southern region school, and Talamante at 505-685-4523 for the northern region school.
Editors Notes
The deadline for registration for these events is June 1.