Otero County Cooperative Extension office hires extension agentOtero County hires new 4-H and agriculture agent.
By Shelby N. Herrera
575-646-7079
sherrera@nmda.nmsu.edu
Apr 01, 2016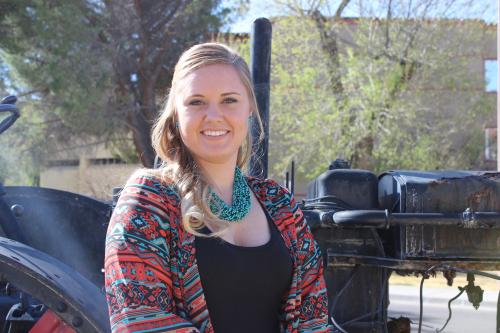 Marlee Runyan, a now second-year extension agent, has joined the Otero County Cooperative Extension Services' team as their 4-H and agricultural agent.
In Otero County there are currently eight 4-H clubs. It is Runyan's job to oversee these clubs' projects and events such as rodeo, livestock and community service projects.
Runyan grew up as a member of the Eddy County 4-H program and the Artesia FFA Chapter. After graduating from Artesia High School, Runyan attended New Mexico State University where she earned her Bachelor of Science in Agriculture, in Agriculture and Community Development Education, and her Master of Arts in Agricultural and Extension Education.
"I chose to be a part of the AXED family and started my educational path in the ACDE program," Runyan said. "I am passionate about everything the Cooperative Extension Service and Land Grant universities stand for. Educating our youth and adults about agriculture is at the top of my list as well as teaching life skills, citizenship, leadership and community service."
As a 4-H and agricultural agent in Otero County, Runyan will have many responsibilities that are sometimes unpredictable. She will focus on providing leadership and guidance to Extension educational programs in agriculture and the 4-H Youth Development program. These programs include 4-H youth and adult leaders at a county, state and national level.
Runyan hopes to help build the current 4-H program in Otero County with new ideas, participation and leadership.
"My goal is to not only help the 4-H youth and adults in Otero County," Runyan said, "but also to better myself as an educator, leader and role model."
The Otero County Extension Office is located in Alamogordo. For more information about 4-H or the Cooperative Extension Service in Otero County visit http://oteroextension.nmsu.edu