NMSU's NM EDGE offers first-of-its-kind Extension professional trainingNMSU's NM EDGE program is offering first-of-its-kind Extension professional training to newly hired agents and specialists.
By Jane Moorman
505-249-0527
jmoorman@nmsu.edu
Apr 04, 2016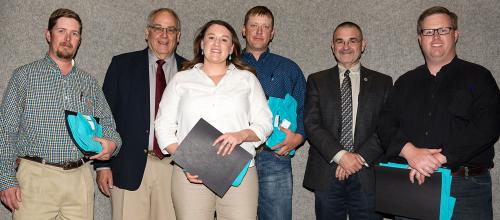 One of New Mexico EDGE's newest certification programs is designed to help New Mexico State University's new Cooperative Extension Service specialists and agents to learn the organizational ropes of their new jobs.
NM EDGE, which stands for Education Designed to Generate Excellence in the Public Sector, provides county and state officials with professional programming.
"The training for newly elected officials has been so effective that the extension service leadership thought it would be good for their new employees," said Mary DeLorenzo, NM EDGE program director.
When Natalie Goldberg joined NMSU's College of Agricultural, Consumer and Environmental Sciences faculty, she thought she knew what extension was, but she now admits she didn't fully understand what it meant to be an extension specialist.
"Specialists, while they have a degree in a field of agriculture, may not always have exposure to the extension service unless during their graduate studies they worked for somebody that has an extension appointment," said Goldberg, NMSU Extension plant pathologist and Extension Plant Sciences department head. "So when they graduate and get an extension job, the learning curve is huge in understanding what working for the extension service really means."
The New Mexico Certified Extension Professional designation is the first of its kind in the nation. To earn this designation, the specialist or agent must take 24 three-hour classes; six are specific to extension service, and the rest come from the certified public manager curriculum offered by NM EDGE.
The specific classes address the history and philosophy of extension, demystifying the NMSU system, civil rights in extension work, extension program development and evaluation, effective delivery of extension programs, and excelling in extension performance documentation.
"The curriculum was created by looking at the extension service's need and determining what could be filled by certified public manager curriculum and what needed to be created," DeLorenzo said of the program development.
"After the first round of course delivery, we realized we could improve the program by making it progressive, so each class wasn't having to give the same background information," DeLorenzo said.
Each class builds on the previous classes.
"This delivery method is better if the entire six classes are offered in a two- or three-day period," DeLorenzo said. "Taking all of the CES classes at one time makes a lot more sense and it is more effective."
NMSU Extension weed specialist Leslie Beck found the program very beneficial.
"I was in my second week at NMSU," said Beck, who came from Purdue University. "I found it to be extremely helpful. It was a crash course in how things are done here. It also gave me an opportunity to meet other specialists and agents who I will be working with in the future."
Luther Dunlap, Curry County agricultural agent, had worked in the Texas A&M AgriLife Extension Service, so he knew how to be an agent. But he found the information about how NMSU's College of ACES is organized and what it expected of him very valuable.
"Sometimes we're a little different from other extension organizations, because of their state's values," said Jon Boren, NMSU assistant dean and extension service director. "When the agents take the certified public manager portion of the curriculum, they have an opportunity to meet their county's officials and begin developing a professional network."
Boren and the College of ACES leadership believe this professional training will improve the delivery of extension programming in the state.
"We believe this is so vital to reaching our land-grant mission of taking research-based information to the state's citizens that we are now requiring all new specialists and agents to take the classes," Boren said.