Registration now open for New Mexico Youth Ranch Management CampRegistration is now open for youth ages 15 to 19 interested in the New Mexico Youth Ranch Management Camp, to be held June 5 to 10. Deadline to apply is May 1.
By Jane Moorman
505-249-0527
jmoorman@nmsu.edu
Mar 14, 2016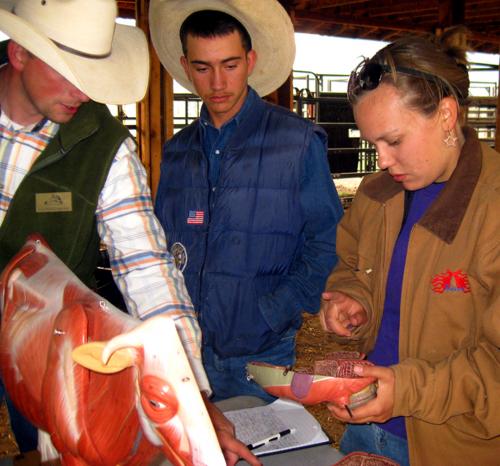 Applications are now being accepted for the 2016 New Mexico Youth Ranch Management Camp. Deadline to apply is May 1.
"We are proud to offer this one-of-a-kind program for the future cattle producers of our state," said Jon Boren, New Mexico State University Cooperative Extension Service director. "The collaboration between our Extension specialists, county Extension agents and members of the ranching industry has provided an opportunity for the youth to see the many aspects of managing a ranch and natural resources."
The activity-packed week of June 5 to 10 will conclude with a ranch management plan competition.
Each day, campers ages 15 to 19 will learn professional-level information.
• Day 1: All Things Beef: The day includes learning about the international beef industry, nutrition and cattle reproduction, Beef Quality Assurance training and processing a beef carcass into meat.
• Day 2: Marketing and Economics: Participants will be given helpful tips on managing ranches and marketing livestock, natural resources and agri-tourism opportunities.
• Day 3: Natural Resources: Campers will learn the basic fundamentals of managing wildlife and natural resources.
• Day 4: Range Land: The future ranchers will learn the economics and importance of land stewardship in the delicate ecosystem.
• Day 5: Ranch Management Plan Competition: Campers are divided into teams to prepare a plan on how they would operate a ranch. Judges from the beef industry and NMSU determine the winner.
Since 2011, 100 youth have participated in this unique opportunity to be exposed to the vast career opportunities associated with the beef industry.
"You don't have to just be in ranching to attend this camp. It offers a wide variety of career avenues," said camp director Jack Blandford, Luna County Extension program director. "I encourage any youth within the age group to apply."
For more information or to apply, visit http://aces.nmsu.edu/nmranchcamp/index.html. Cost for the five-day camp is $300.