NMSU Valencia County Extension presents two-day beef cattle production workshopA beef cattle production workshop hosted by New Mexico State University Valencia County Cooperative Extension Service on April 8 and 9 in Los Lunas.
By Jane Moorman
505-249-0527
jmoorman@nmsu.edu
Mar 22, 2016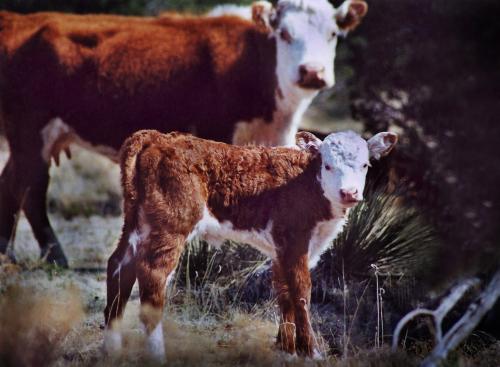 LOS LUNAS – Cattle producers have an opportunity to refresh and expand their knowledge in four key areas of cattle production at a beef cattle production workshop hosted by New Mexico State University's Cooperative Extension Service in Valencia County.
The free two-day workshop will be from 8:30 a.m. to 12:30 p.m. Friday, April 8, at the Valencia County Extension office, 404 Courthouse Road in Los Lunas, and Saturday, April 9, at the Isleta Pueblo.
"There is an estimated 9,100 head of beef cattle in Valencia County. Raising beef cattle is a significant part of Valencia County's agricultural income," said Newt McCarty, Valencia County Extension agricultural agent.
"The information provided in this workshop applies to all producers; whether they have two cows in the back pasture or 200 out on the range, everyone will gain something from this program," he said.
NMSU's Extension Animal Science and Natural Resource faculty members will present on the areas of rangeland management, ruminant nutrition, immunology and livestock vaccination and beef cattle reproduction.
"A healthy rumen is an efficient rumen," McCarty said. "NMSU graduate student Lyndi Owensby will speak on how the rumen works, the importance of keeping it healthy and the nutritional requirements of cattle throughout different stages of production."
Animal science professor Dennis Hallford will discuss how the immune system works and the importance and many benefits of a consistent and comprehensive vaccination program.
"Grass grows cattle," McCarty said. "Knowing how to determine the quantity of animals that the available grass can support is important to prevent overgrazing."
Nick Ashcroft, Extension rangeland management specialist, and Art Ariaz, Natural Resource Conservation Service specialist, will demonstrate the importance of rangeland management while providing the cattlemen tools and knowledge to monitor and manage the forage.
"In a cow/calf operation, the calves pay the bills," McCarty said. "Marcy Ward, NMSU Extension livestock specialist, will discuss in detail the reproductive system and the importance of the reproductive health of the bulls, cows and heifers."
For more information, call McCarty at 505-565-3002.