NM Youth Ranch Management Camp moves to CS Cattle Company's Cimarron ranchNMSU moves New Mexico Youth Ranch Management Camp to to historic CS Cattle Company ranch near Cimarron. Registration deadline is May 1.
By Jane Moorman
505-249-0527
jmoorman@nmsu.edu
Mar 24, 2016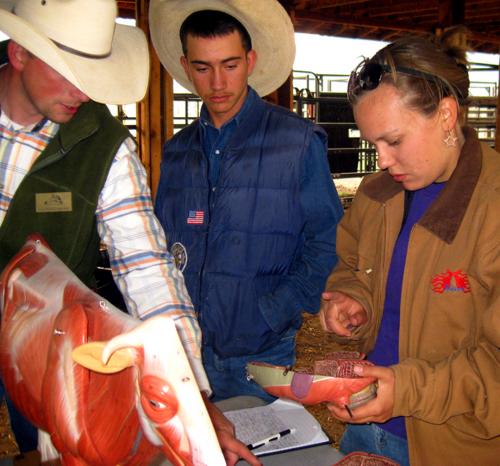 CIMARRON – New Mexico Youth Ranch Management Camp has a new location. It will be held on the CS Cattle Company's 130,000-acre ranch at the foot of the Sangre de Cristo mountain range near Cimarron.
"This location will allow our campers to see a real-life working ranch," said camp director Jack Blandford, Luna County Extension program director. "The CS is a working cattle and hunting operation and has been family owned and operated since 1873. We all are excited about holding the ranch camp there."
The CS Cattle Company was founded by Frank Springer and his brother Charles, whose initials are used for the ranch name and historic brand. Les Davis, grandson of Frank Springer, took over management of the CS in 1947 and today his children continue managing the operations.
Applications are now being accepted for the 2016 camp, which will be held June 5 to 10. Deadline to apply is May 1. Cost for the camp is $300.
The youth ranch management camp is administrated each summer by New Mexico State University's Cooperative Extension Service. It began in 2011 at the Valles Caldera National Preserve. Since then 100 youth have participated in this unique opportunity to be exposed to the vast career opportunities associated with the beef industry.
"We are proud to offer this one-of-a-kind program for the future cattle producers of our state," said Jon Boren, NMSU College of Agricultural, Consumer and Environmental Sciences associate dean and director of the extension service. "The collaboration between our Extension specialists, county Extension agents and members of the ranching industry has provided an opportunity for the youth to learn about the many aspects of managing a ranch and natural resources."
During the five-day camp, the 15-19 year old youth receive college-caliber course information on all things beef, marketing and ranch economics, natural resources and rangeland management.
The campers are divided into teams to prepare a ranch management plan on how they would operate a ranch. On the final day of camp, the teams present their plans to judges from the beef industry and NMSU in competition for the coveted team jackets. One camper each day receives the Top Hand award for their outstanding participation in that day's activities.
"You don't have to just be in ranching to attend this camp. It offers a wide variety of career avenues," Blandford said. "I encourage any youth within the age group to apply."
For more information or to apply, visit http://aces.nmsu.edu/nmranchcamp/index.html.
Editors Notes
This is an update of a previous article, adding the location of camp.