NMSU ag researchers collaborate on addressing water management challengesNMSU researchers in the College of ACES are collaborating on a project to help address water resource management challenges.
By Amanda Bradford
575-646-1976
ambradfo@nmsu.edu
Feb 29, 2016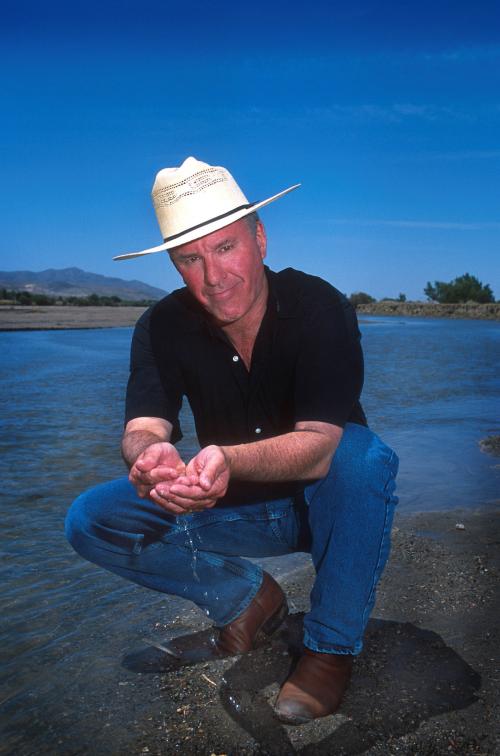 In the water-scarce desert Southwest, the agricultural, urban and environmental sectors are constantly competing for limited water. So how do you handle the fact that each stakeholder within those sectors wants something different in a water management strategy, for now and for the future?
That's the fundamental question that a team of New Mexico State University researchers is hoping to answer as they collaborate with research partners from several institutions, including the University of Texas El Paso and the University of New Mexico, on a five-year, $4.9 million study funded by the U.S. Department of Agriculture's National Institute of Food and Agriculture.
"Here's the problem with water: There's never enough of it," said Frank Ward, an NMSU professor of agricultural economics and agricultural business in the College of Agricultural, Consumer and Environmental Sciences who specializes in water resource management.
Ward said stakeholders, including small- and large-scale farmers, urban and industrial users, government agencies and environmental and social justice advocates, are interested in the best way to use water and to protect it. Additional factors like climate change, competing usage demands and the interplay of state, federal and international laws make finding those solutions more complex.
"Use and protection are at odds: The more you use, the less you have for tomorrow, while the more you protect for tomorrow, the less you have for today's use," Ward said. "So the competition between the use of water and the protection of it is a huge issue – it's a moral issue, it's an economic issue, it's a policy issue. And it's a researchable issue."
The research team, led by principal investigator William Hargrove of UTEP, also includes scientists from Texas AgriLife Research Center at El Paso, Michigan Tech and Universidad Autonoma de Ciudad Juarez. The project seeks to involve stakeholders as participants, as well as policymakers, an important target audience for the results.
The team is developing a computer model that will incorporate scientific data on the supply of water in the Middle Rio Grande Basin and information on the demand for that water, along with survey feedback from key stakeholders on what a desirable water management outcome for avoiding shortages looks like to them.
The model will also incorporate long-term climate change and short-term climate variability scenarios developed by leading climate scientist David Gutzler of UNM, who has already collected and analyzed considerable data on streamflow in the Middle Rio Grande Basin.
Work on the project began in March 2015, and Ward said the team has covered a lot of ground in the first year, both in the research and its corresponding cooperative extension and teaching missions.
A key objective of the project is to share information about technologies and model outcomes with water users throughout the region. To that end, the team has already co-hosted a workshop with the New Mexico Water Resources Research Institute that explored water banking as one approach that could allow surface and groundwater allocations to be used more efficiently and help mitigate drought damages. The roughly 100 farmers, water users, legislators, government officials and faculty members who attended learned how water rights held by a farmer who doesn't need them one year could be purchased or leased by another user, like a municipality.
Another objective is strengthening water resource education programs to train more and better water professionals. In one example of that effort, UTEP hosted a series of six water resources seminars during the fall semester, including presentations from NMSU College of ACES faculty member Brian Hurd and doctoral candidate Margie Vela.
Once the study is complete, Ward said the finished computer model will have a dynamic user interface that allows stakeholders to personally experiment with different water management scenarios and observe and review the desirability of projected outcomes. That could prove useful not only to the stakeholders who are both the target audience of and the active participants in the research, but also to legislators and policy analysts.
"The findings of our study could have major implications for policy – both federal and state," Ward said.
Last week, USDA NIFA leadership touted the project in testimony before the U.S. House Appropriations Committee as an example of excellent water management research being conducted using grant funding from the agency.
In the coming year, researchers plan to validate the computer model and expand it to include additional water sources, climate data and water use data. They'll also continue interacting with stakeholders to learn more about their decision-making and their resilience in extreme drought conditions.
AEAB Department Head Jay Lillywhite said the collaborative research project is part of a broad scope of water research being conducted by NMSU statewide.
"Sustainable water resource management is a critical issue facing New Mexico and the West," Lillywhite said. "NMSU researchers in agriculture, engineering and other disciplines are working to address the many challenges facing Southwest water planners and manage our water responsibly for future generations."