Longtime NMSU Extension agent Houghton honored for service to communityWoods Houghton, longtime agriculture agent for the Eddy County CES, was honored recently at the Joint Stockmen's Convention in Albuquerque.
By Darrell J. Pehr
575-646-3223
pehr@nmsu.edu
Feb 26, 2016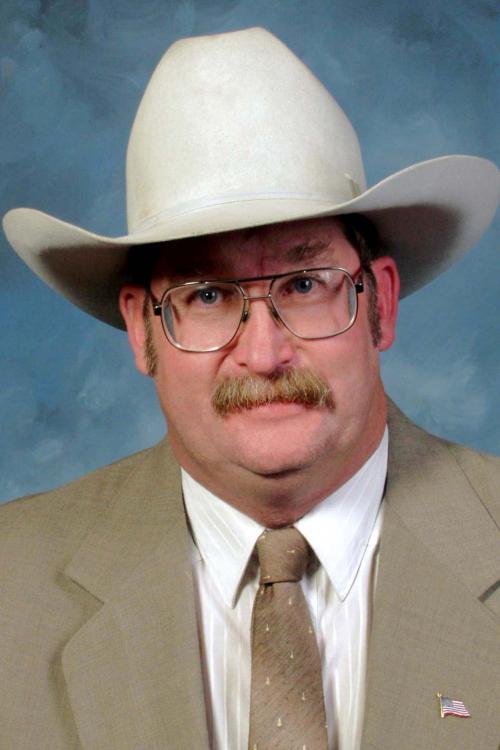 For more than three decades, Woods Houghton has been helping others in his role with New Mexico State University's Cooperative Extension Service. Now, that dedication to others has been recognized with the Bruce and Alice King Memorial Service Award from the New Mexico Cattle Growers Association.
Houghton, longtime agriculture agent for the Eddy County Cooperative Extension Service, was honored recently at the Joint Stockmen's Convention in Albuquerque.
"Woods' life has been defined by service – to 4-H kids and their families, to agriculture, to those struggling with drug addiction – and more," said NMCGA President Pat Boone. "He is a true friend, an invaluable source of information, and a staunch defender of private property rights and our way of life. We are glad to have this opportunity to recognize his service and say thank you."
The Bruce and Alice King Memorial Service Award was established by NMCGA in 2009 to recognize those both within and outside of the agricultural industry who exhibit the qualities, leadership, generosity and community service the Kings were known for.
"New Mexicans were blessed with tremendous examples of what public service and love of community really means in the persons of Bruce and Alice King. We honor their memory with this annual award," Boone said.
Houghton said the award came as a complete surprise.
"I was humbled to get this award," Houghton said, "because so many people did so many things. I was just a cog in the wheel."
Houghton started working for NMSU 39 years ago and started with Extension 31 years ago. He first served in the De Baca County Extension Office and then went to Eddy County. He recalled some of the many projects and initiatives he worked on with over the years, such as helping De Baca County hospital get a new X-ray machine, assisting ranchers in properly filing their water rights, helping ranchers evaluate rangeland and working to build bridges of collaboration between ranchers and federal agencies, especially on the issue of brush management.
"We have some of the best relationships with federal agencies," he said. "We talk to each other. We work together. By meeting together, you can talk to each other without being at odds. You don't have to agree, just respect each other's position."
Houghton also was a leader about 12 years ago in the establishment of a community drug and gang coalition that started in Carlsbad, and he helped establish similar efforts in Artesia, Roswell and Hobbs.
"When I started doing that, most of the farmers and ranchers supported us," he said. "We all have problems, or know someone who does. They all saw that as a major issue in our community. They were quite supportive of me working with people in the community to help address that problem."
The award also recognized Houghton's work with 4-H programs.
"People who work with 4-Hers are special people just for that service alone. As a county extension agent, your service quadruples exponentially," Boone said.
Houghton recalled 4-Hers he worked with who have gone on to earn Ph.D.s, who became veterinarians and who served their community on school boards, county commissions and in other public service roles. "This is real rewarding," Houghton said.
Houghton said being honored by an award in memory of Bruce and Alice King is especially meaningful. He recalled meeting the former governor in 1968, when Houghton was on a school field trip to the newly finished State Capitol building.
"One of the things he told us was 'Do your best to change the world, then do a little bit better, and when you've done that, do a little bit better.' That's something that's stuck with me since the time I was a young person."
Over the years, Houghton got to know Bruce and Alice King, and even shoed horses for Bruce King as a young man.
"They were special people to New Mexico," he said, "giving and service people to New Mexico. So, to receive that in their name was quite an honor, especially to me, because they did mean so much to me personally."
Houghton noted some of the people in Extension who served as role models for him, such as Richard Marek, Dan Leisner, Bill Thompson, Martha Anderson, Paul Hay and others. Houghton said the work he is able to do in Extension is tremendously rewarding and the award is a welcome but unnecessary acknowledgement.
"There's not many jobs where you can say, 'The world's a little better off because you were there,'" Houghton said.