NMSU peanut expert reports good season despite excess rainfall for New Mexico growersNMSU peanut breeder reports more rainfall led to challenges at harvest time.
By Darrell J. Pehr
575-646-3223
pehr@nmsu.edu
Jan 25, 2016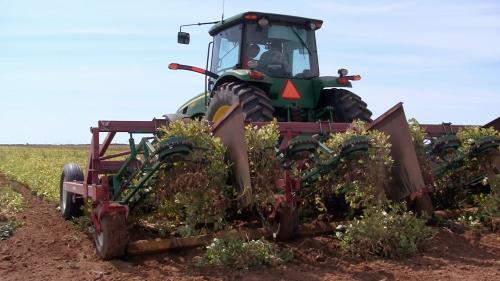 Abundant rainfall across New Mexico during the spring and summer of 2015 meant healthier mountain forests, fuller lakes and rivers and more reliable municipal water supplies.
The rainfall also gave a boost to New Mexico's peanut growers … until harvest, when too much of a good thing proved to be a problem.
New Mexico State University peanut breeder Naveen Puppala said the volume of the rain was especially beneficial during the growing season. A 2015 growing season rainfall of 30 inches far surpassed the average 18-inch annual total, and more than tripled the amount of rainfall from recent growing seasons: 8.02 inches in 2013 and 9.45 inches in 2012. In October 2015, areas in Eastern New Mexico received 8.0 inches of rainfall, which was the wettest month of the year.
"This year, we had a very fantastic cropping season," Puppala said. "The growing season went very well."
Based at NMSU's Agricultural Science Center at Clovis, Puppala has conducted research on New Mexico's peanut crop for more than 15 years. He spends a lot of time working with peanut producers during the growing season, and visited fields during the harvest near Lingo, New Mexico, and other locations.
Puppala said New Mexico's peanut crop is primarily grown in Roosevelt, Curry and Lea counties on the eastern side of the state. The NMSU expert said about 15,000 acres of peanuts were contracted this year by New Mexico processing plants.
Farmers encountered a challenge at the beginning of this year's growing season, when abundant rain made it more difficult to get into the fields for planting in May, due to muddy conditions. Weather during the growing season went well, and farmers who harvested early had no trouble. But big rainfall at harvest this fall has hindered the operation of threshing and drying the peanuts.
Puppala explained that rain can be a factor in the harvest of the peanuts. That's because of the two-step process of harvesting peanuts, which are first dug up and laid out on the ground, then allowed to dry out. After drying about a week on the ground, the peanuts are usually ready to be threshed from the peanut plant and then delivered to a processing plant. If rainstorms are unseasonably heavy during the harvest season, though, it may delay the second part of the process.
For those growers who dug and harvested the peanuts by the end of September, the weather was ideal. By planting early in the season, they were in a better position as they escaped the abundant rainfall in the fall. Those growers who planted late in the season had problems with heavy rainfall at harvest, which resulted in discoloration of the peanuts. Fortunately, the discoloration does not significantly affect yield or grade of the crop.
"Untimely rainfall during the harvest has resulted in discoloration without hampering the yield and grade," Puppala said. "In-shell Valencia peanuts are paid a premium of $50 per ton if they are bright-colored. It has been an unusual year for peanuts like this."
Puppala said he anticipates a moderate year, with the peanut crop generating an average yield of about 3,200 pounds per acre As a result, Puppala expects this year's peanut crop to generate $30 million to $40 million in economic impact for the state's producers.
Eastern New Mexico and West Texas are favorable places for organic peanut crops due to the relatively modest rainfall and abundant sunshine when compared to other areas where peanuts are grown, like Georgia, Alabama, Florida, North and South Carolina. New Mexico is the number one grower of organic peanuts in the United States.
Puppala said farmers in New Mexico grow Valencia peanuts, which are known for their reddish seed color and sweet taste. The three- to four-seeded pods are often sold to the consumer as an in-shell peanut.