NMSU Hotel, Restaurant & Tourism Management students host international dinnersEach of the dinners is planned and executed by students in the NMSU School of HRTM
By Amanda Bradford
575-646-1976
ambradfo@nmsu.edu
Jan 27, 2016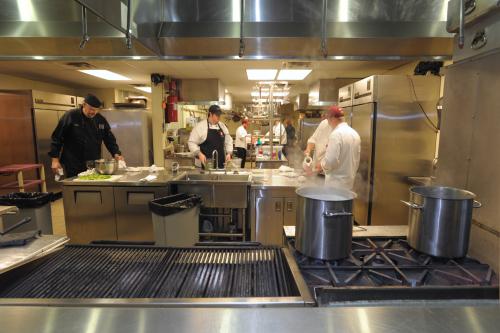 Does a romantic gourmet Valentine's Day feast sound like the perfect date for you and your sweetheart? Do you long for some authentic "chowdah" from New England, or a refreshing Irish lager paired with a meal from the Emerald Isle?
If so, mark your calendar for Friday morning – that's when tickets go on sale for the New Mexico State University School of Hotel, Restaurant and Tourism Management's spring slate of international dinners.
"If you've attended one of these international dinners in the past, you know they are extremely popular," said the school's new director, Jean Hertzman. "Our tickets sell out quickly, so we've set up a plan to make getting your hands on the tickets as equitable as possible."
Each of the dinners is planned and executed by students in the NMSU School of HRTM's restaurant operations, food management and events management courses.
"This is more than a class or a dinner," said Chef Pete Mitchell, a college assistant professor in the School of HRTM. "It's an experience for them. They get to find out what it takes to put on an event."
Tickets for the dinners must be purchased in person at Gerald Thomas Hall, Room 138, beginning at 10 a.m. this Friday, Jan. 29, on a first-come, first-served basis. Payment is required at the time of purchase. 
The dinners begin at 6 p.m. with a wine tasting in the Bobby Lee Lawrence Academy of Wine, followed by a multi-course dinner at 6:30 p.m. at 100 West Café. Both venues are inside Gerald Thomas Hall on the NMSU Las Cruces Campus. 
The spring dinners begin with a Valentine's Day-themed event on Feb. 11, with a special price of $75 per person. Tickets for all other dinners are $62.50 per person.
Irish cuisine is on the menu for March 3, paired with ales, stouts and lagers, and northern Italian cuisine is the focus for the March 31 dinner. A South American-themed dinner on April 14 will feature a welcome reception for Hertzman and silent auction benefiting student clubs and activities. The final dinner of the semester on April 28 will feature New England cuisine.
For more information about the dinners, visit http://aces.nmsu.edu/100west/international-dinner.html or contact Stella Lucero at 575-646-5995 or stcordov@nmsu.edu.